40 years of fair fun celebrated in Maumee
8/12/2017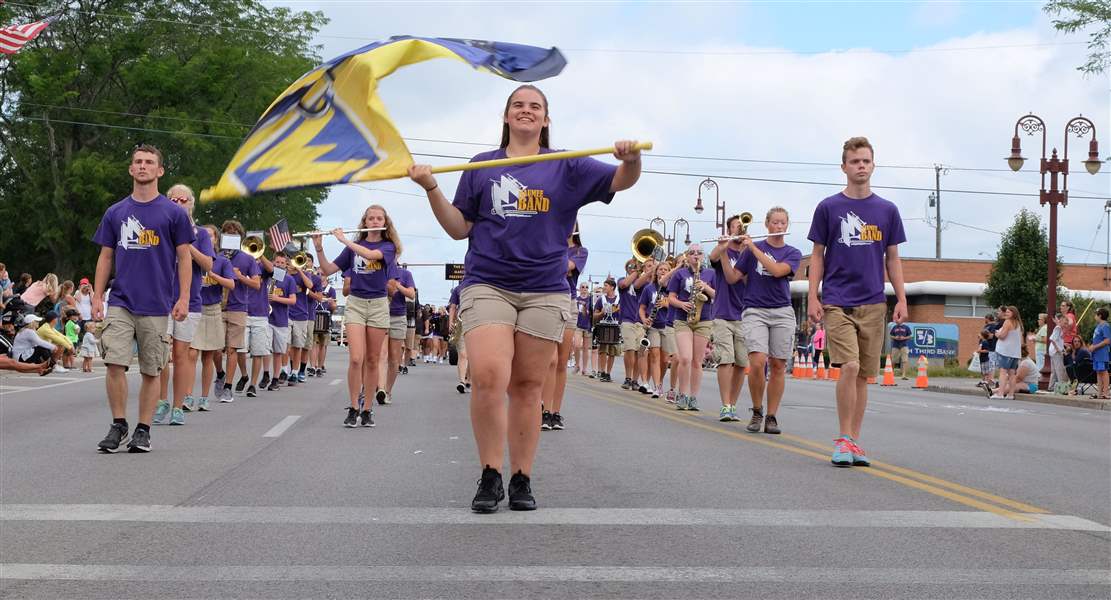 The Maumee High School band performs during the Maumee Summer Fair parade Saturday.
The Blade/Lori King
Buy This Image
In 1977, then 12-year-old Mike Dibling used construction crayon to mark the boundaries between each booth at the first-ever Maumee Summer Fair, a street festival organized by his family.
"We marked where the vendors stand," Mr. Dibbling recalled. "You measured out how much they'd get, 15 feet or ten feet. You just laid them out."
VIDEO: Maumee Summer Fair parade
Now, Mr. Dibling, 52, and his wife, Karen, oversee the entire fair, which celebrated its 40th anniversary Friday and Saturday on Conant Street in Maumee. Sponsored by the Maumee Uptown Business Association, the annual fair features a classic car show and a bouncy castle, as well as street vendors selling food and clothing.
On Saturday morning, thousands of locals gathered with lawn chairs for a parade through Maumee, cheering as a line of fire trucks proceeded on Conant Street.
IN PICTURES: 40th Maumee Summer Fair
Maumee residents John and Karen Snyder have attended the summer fair religiously for almost three decades. As far as the Snyders can tell, the event has hardly changed since the 1980s — except now their three grandchildren join them for the festivities.
During the parade, Mr. Snyder, 70, helped his grandson collect candy tossed onto the street. But Mrs. Snyder, 69, said she sometimes misses the days when she and her husband could walk from stall to stall unencumbered by needy children.
"You're not being dragged," she said with a smile. "You can walk around and look at stuff."
One attendee with slightly less experience of the summer fair was Evelyn Sigworth, 4.
Evelyn, who attended the fair with her mother and two-year-old sister, was captivated by a black-and-white llama named Nakota, which was on display next to a stall selling llama and alpaca apparel.
"I liked it," Evelyn said, as she walked away from the llama's enclosure. But, she added, the polar bears at the Toledo Zoo remain her favorite animals.
The fair was established in 1977 as an opportunity for local businesses to hawk their wares to a wide audience, Mr. Dibling said. At the time, it occupied just three blocks of Conant. Now, that stretch forms the base of a rectangular grid surrounded by food vendors and musical performances that draw 10,000 locals every year.
This year, an Indiana-based chainsaw artist performed at the fair for the first time, producing wood carvings that were auctioned off to locals. Despite the fair's continued popularity, Mr. Dibling refuses to rest on his laurels. Standing beside the information booth on Saturday morning, he said the planning has already begun for next year's event.
"What went well? What did we miss?" he said. "It starts with notes."
Contact David Yaffe-Bellany at dbellany@theblade.com or 419-724-6050, or on Twitter @yaffebellany.