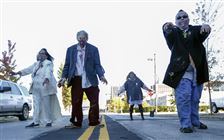 Sylvia LaCourse, Jeff LaCourse, Brenda Johnson, and William Johnson walk like zombies down Adams St. during last year's Zombie Crawl. This year's will be held Oct. 21.
THE BLADE
Enlarge | Buy This Image
The eighth annual Adams Street Zombie Crawl hits the streets in the Glass City on Oct. 21.
This year the Zombie Crawl will be fenced in from 21st to 11th streets, as those dressed as zombies can enjoy live music, food trucks, and access to seven bars throughout the evening.
Zombies 21 years of age and older are permitted, and ATMs will be on scene. Entry includes a $5 wristband. Last year it was estimated about 15,000 zombies passed through the event, which organizers are expecting to beat in number this year setting a record.
The event is from 5 p.m. to 1 a.m. and benefits the Village on Adams and its mission to keep Adams Street fun and safe. For more information, visit thezombiecrawl.com.
Guidelines: Please keep your comments smart and civil. Don't attack other readers personally, and keep your language decent. Comments that violate these standards, or our privacy statement or visitor's agreement, are subject to being removed and commenters are subject to being banned. To post comments, you must be a registered user on toledoblade.com. To find out more, please visit the FAQ.