It may be cold outside, but that hardly means this need be a winter of discontent.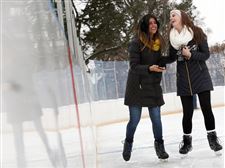 Felicia Christopher, left, and Allison Morrison, right, laugh together as they skate across the ice January 13 at the Ottawa Park Ice Rink in West Toledo.
The Blade/Katie Rausch
Enlarge | Buy This Image
As temperatures continue dropping, it might be tempting to stay curled up at home with a blanket and a mug of hot cocoa. But, for those northwest Ohioans who embrace the change in season, there are plenty of reasons to look forward to piling on scarves, hats, and mittens.
Ice skating. Sledding. Snowshoeing. Or, for those who prefer to ease into the season, maybe a winter wonderland that offers all of the sparkly magic with none of the accompanying shivers.
Children's Wonderland, a 36,000-square-foot seasonal display that's been entrancing visitors since it opened in 1963, opens on Friday at Tam-O-Shanter, 7060 W. Sylvania Ave., Sylvania.The wintry walk-through offers something for everyone: Little ones will likely be drawn to the vibrant landscape of Candyland, while nostalgia might lead older visitors to pause in front of the animated "raccoon house," whose bandit-eyed inhabitants have long been a staple.
"You have the kids that want to see it because it's a magical experience for them, but also the adults and grandparents because they saw it when they were kids," said Brittany Meronk, special events manager for Sylvania Recreation Corp. "It's kind of become a family tradition for a lot of people in the area."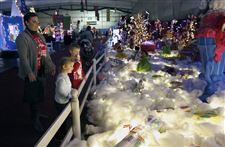 Kristina Biederstedt, left, and her children Kyndall Biederstedt and Zain Biederstedt, marvel at one of the illuminated holiday scenes during the Children's Wonderland at Tam-O-Shanter in December of 2016.
The Blade
Enlarge | Buy This Image
In addition to the usual sights of Children's Wonderland, including, of course, a cheerful Santa Claus, Sylvania Recreation Corp. is also scheduling children's programming this year. Children's Theatre Workshop will host several creative story times, for example, while local piano teachers will lead holiday music on Dec. 16 and 17.
For a full schedule of programs, go to childrenswonderland.org.
"We're really excited for some of the new elements," Meronk said of programs. "We can bring it to life for everyone in the community."
Children's Wonderland is open daily, 11 a.m. to 8 p.m., through Dec. 23. Its shortened Christmas Eve hours are 11 a.m. to 2 p.m. Admission this year covers train rides and a children's craft area; it is $6 for children and seniors and $8 for adults 18 and older.
Ready to embrace the cold? Try these other seasonal activities:
■ Lace up your ice skates: Families can take a loop around the ice skating rink while at Tam-O-Shanter too, for a separate admission of $6 for adults and children, $4 for Sylvania and Sylvania Township residents with ID, and $2 for seniors ages 60 and older; skate rental is $4. Check sylvaniatamoshanter.com or call 419-885-1167 for the indoor facility's daily open skate hours.
■ Team Toledo Ice House, 1258 W. Alexis Rd., also offers limited indoor open skate hours. Its schedule is at teamtoledoicehouse.com; admission is $5 and rental is $3. The Ottawa Park Ice Rink, 2200 W. Bancroft St., opens each year once consistent cold temperatures move in. Its opening date will be shared at ottawapark.org and on social media; skaters can also call 419-936-2997. Expect $4 for admission and $2 for skate rental. Or, for a simpler experience, try the admission-free skating on frozen ponds at Pearson Metropark in Oregon, Side Cut Metropark in Maumee, or Oak Openings Preserve in Swanton. Check metroparkstoledo.com or related social media accounts for updates on when the ice is safe for skaters — likely sometime after the new year.
■ Explore ice as an art form: Napoleon-based Ice Creations will demonstrate the art of ice carving at the Toledo Zoo at 6 p.m. Thursday, and Dec. 14, 21, and 28. The demonstrations are part of Lights Before Christmas, the zoo's after-hours program that invites guests to enjoy a sprawling display of more than 1 million lights. Nonmember admission is $17 for adults and $14 for children and seniors; check toledozoo.org/lights for details. Mark your calendar for Feb. 10 and 11 too, when ice carvings will take center stage at Perrysburg Winterfest.
■ Tromp through the snow: Metroparks Toledo lights up its sledding hills at Pearson and Side Cut until 8 p.m. on weekdays. Blue Creek, in Whitehouse, also boasts a popular daytime sledding hill. Or give snowshoeing a try this season: Pop-up programs scheduled based on snow conditions begin in January. Sign up at reservations.metroparkstoledo.com for details.
■ Take a holiday carriage ride: Check out Wildwood Preserve Metropark by carriage on Friday, Saturday, Sunday, and on Dec. 15, 16, and 17. The tours complement a visit to the park's historic mansion, where volunteers have been memorably decking the halls for more than 40 years. The Manor House is open each day through Dec. 17 between 10 a.m. and 8 p.m. Admission is free. Carriage tours require $6 tickets that must be purchased online through reservations.metroparkstoledo.com.
■ Join a Christmas Bird Count: Bird-watchers across the country will participate in Christmas Bird Counts this month. The Toledo Naturalists' Association compiles information about local counts, including a Toledo-area count scheduled for Dec. 17. For more information, go to toledonaturalist.org.
■ Try your hand at ice fishing: The Ohio Department of Natural Resources offers guidelines for ice fishers, including a list of guides who operate on Lake Erie, at wildlife.ohiodnr.gov/fishing/ice-fishing. Or hook up with other ice fishers at the Midwest Open Ice Fishing Tournament in Michigan on Jan. 28. For more information, go to midwestopentournament.com.
■ Step back in time: Sauder Village, in Archbold, offers two more Holiday Lantern Tours this season. Guests who make reservations in advance can enjoy "A 1920s Christmas" on Friday or Saturday. Nonmember tickets are $13 for adults and $7 for children; for more information, go to saudervillage.org.
Contact Nicki Gorny at ngorny@theblade.com or 419-724-6133.
Guidelines: Please keep your comments smart and civil. Don't attack other readers personally, and keep your language decent. Comments that violate these standards, or our privacy statement or visitor's agreement, are subject to being removed and commenters are subject to being banned. To post comments, you must be a registered user on toledoblade.com. To find out more, please visit the FAQ.