Mayor Wade Kapszukiewicz and University of Toledo President Sharon Gaber made a joint pitch on Friday to encourage Toledo residents to attend the 17th annual Unity Celebration in honor of the Rev. Martin Luther King, Jr.
The free event takes place from 9-11 a.m. on Monday at UT's Savage Arena and is followed by a free community lunch.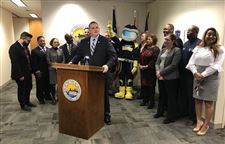 Mayor Wade Kapszukiewicz and city council members, staff, and representatives from the University of Toledo and United Way of Greater Toledo invited the public to attend a celebration in honor of The Rev. Martin Luther King Jr.
The Blade/Sarah Elms
Enlarge | Buy This Image
"Although Dr. King's voice was silenced a half century ago, today his message still resonates," Ms. Gaber said. "As we begin a new year, this annual Unity Day celebration is a great opportunity to emphasize Dr. King's message of unifying our community."
Mayor Kapszukiewicz said Reverend King's "I Have a Dream" speech is one of the most quoted texts in the history of the English language and that the country still is struggling with many of the same issues the activist addressed decades ago.
"There's so much you could say, and especially at a time where our country may be as divided as it has been since the Civil War, I think it is worthwhile to reflect on what his life is all about," he said.
Mr. Kapszukiewicz said the nation is experiencing both racial and economic divisions and Toledo struggles with the same challenges "any other major urban American community would face," particularly when it comes to poverty.
"You see that with everything from the NFL protests to [the 2016] presidential election to the ongoing debate about immigration reform. It's just a very divided time in our country right now," he said.
Monday's Unity Celebration will feature musical performances, remarks from community leaders, and scholarship awards. The Toledo Area Regional Transit Authority is providing vouchers for free rides from downtown to the arena.
Contact Sarah Elms at selms@theblade.com, 419-724-6103, or on Twitter @BySarahElms.
Guidelines: Please keep your comments smart and civil. Don't attack other readers personally, and keep your language decent. Comments that violate these standards, or our privacy statement or visitor's agreement, are subject to being removed and commenters are subject to being banned. To post comments, you must be a registered user on toledoblade.com. To find out more, please visit the FAQ.