Ohio EPA gives OK for iron briquette facility along Maumee River
2/12/2018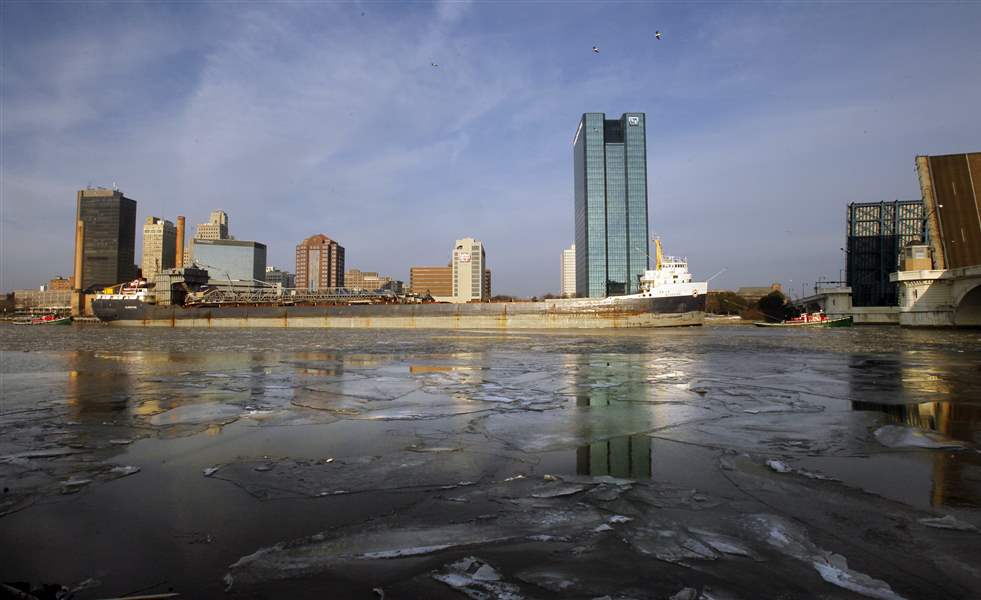 The Maumee River and downtown Toledo.
The Blade
Buy This Image
Plans for a $700 million iron briquette manufacturing facility along the Maumee River received the green light from state environmental regulators Monday.
The Ohio Environmental Protection Agency announced it has issued a permit to build the facility, called IronUnits, on part of the former Gulf Oil refinery site on Front Street and Millard Avenue in East Toledo.
The facility is to be operated by Cleveland-Cliffs Inc., which has vowed to minimize fugitive dust particles and other forms of pollution.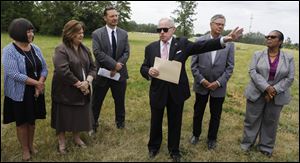 Toledo-Lucas County Port Authority board chairman James Tuschman speaks during a press conference to announce that an East Toledo site had been selected for an iron briquette processing facility, Thursday, June 15, 2017. Plans for the facility received a green light from state regulators Monday.
Local environmentalist Sandy Bihn of Oregon has drawn comparisons to another recently built iron briquette facility in Portland, Texas.
There an Austrian steel company called Voestalpine has angered residents for a number of pollution issues, including airborne particles that have settled on area waterways. Loose soot is blamed for turning a stream red.
RELATED CONTENT: $700-million iron ore plant set for former E. Toledo industrial site ■ Activist's charges anger state EPA chief
Both Cleveland-Cliffs and the Ohio EPA are aware of the controversy at the Texas plant and vow a much cleaner, tighter operation at the East Toledo site. The company has said there are many fundamental differences between the Voestalpine plant and the one planned for this area, both in terms of technology and in how material will be stored and managed.
Carbon monoxide, nitrogen oxides, particulate matter, and greenhouse gas pollutants are expected to be emitted along with other pollutants, but the Ohio EPA said none of the emissions will be at levels harmful to public health and the environment. The plant will produce 2.48 million tons of hot-briquetted iron a year, the agency said.
The East Toledo plant is scheduled to begin operation in 2020. Ms. Bihn has maintained it will be an eyesore, and is worried it will spew soot on boats plying the Maumee River as the city of Toledo tries to get the Marina District developed and build on the momentum generated in 2017 by the grand opening of ProMedica's headquarters downtown, as well as the city's reconfigured Promenade Park.
Ms. Bihn, Lake Erie Waterkeeper founder and Lake Erie Foundation executive director, accuses the Ohio EPA of purposefully withholding information about the Texas facility at the agency's Jan. 18 public hearing in Waite High School about the proposed plant in East Toledo. The Texas facility's problems were not brought up, but Ohio EPA Director Craig Butler strongly denied any intent on his agency's part to deceive or mislead people, calling Ms. Bihn's accusations "garbage."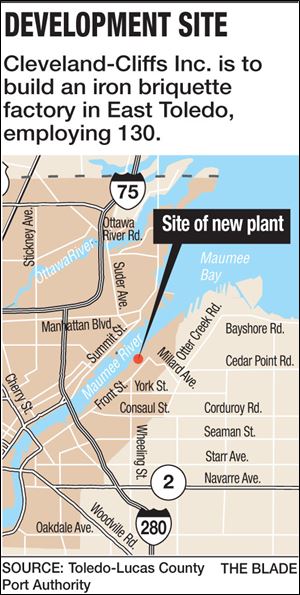 Ms. Bihn is a longtime member of Oregon city council and the city's former clerk auditor, tax commissioner, and finance director. She built her reputation as an environmentalist by calling for greater state regulation of the Envirosafe hazardous waste landfill in Oregon.
David Cartella, Cleveland-Cliffs vice president of government and environmental affairs, told The Blade in a recent interview the Ohio EPA contacted the Texas Commission on Environmental Quality about the pollution there while reviewing the company's permit application. That was done to avoid a similar situation at the proposed in East Toledo facility, he said.
The company itself was aware of the Texas controversy and used lessons from problems with the facility there in its final Cleveland-Cliffs design, Mr. Cartella said. He said Cleveland-Cliffs "did learn from them what not to do" and that his company is "really, really comfortable we're not going to have the same issues they're having down in Texas."
A Cleveland-Cliffs fact sheet said the company included information about the Texas facility in its permit applications to the Ohio EPA and the city of Toledo. It said Texas authorities found 20 unpermitted and unregulated piles of material releasing dust.
Cleveland-Cliffs is proposing to build a facility that will make iron briquettes from taconite pellets, with natural gas as the plant's fuel. The pellets are produced at one of the company's three northern Minnesota facilities. The East Toledo facility would be strictly what is known in the industry as an HBI plant, an abbreviation for hot-briquetted iron.
Precautions are being made to ensure the shipment and storage of those materials are as dust-free as possible, said Clifford T. Smith, Cleveland-Cliffs' executive vice president of business development and the executive in charge of the Toledo project.
Decisions on noise levels generated by the plant are to be regulated by the city of Toledo.
The end product, the iron briquettes, will be used by area steel mills, including North Star BlueScope Steel LLC in Delta, Ohio, to make automotive body parts and other products. The Toledo plant is to employ 130 people.
Contact Tom Henry at thenry@theblade.com, 419-724-6079, or via Twitter @ecowriterohio.