Toledo residents will have the opportunity to weigh in on a proposal to create a stricter curfew, one that would require youth under 16 to be off the streets by 9 p.m.
Councilman Larry Sykes proposed amending the city's current curfew as part of what he described to fellow council members as his ongoing effort to improve safety and prevent crime. City council on Tuesday referred the proposal to its public safety committee, which will next meet Feb. 28 at 3 p.m., for further discussion.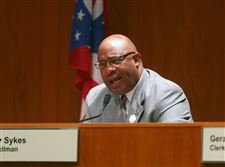 Councilman Larry Sykes wants youth under 16 off the streets by 9 p.m.
THE BLADE
Enlarge | Buy This Image
"This is something that I have been working on — violence and gang violence — for the last four years," Mr. Sykes said. "This is something that I'm bringing forward after going out into the community, meeting with the residents and with various individuals."
The city's current curfew ordinance requires children younger than 11 to be home between 10 p.m. and 5 a.m.; children ages 11-15 have a curfew of 11 p.m. to 5 a.m.; and youths 16-17 must be off the streets from midnight to 5 a.m.
Mr. Sykes would like children younger than 16 to have a curfew of 9 p.m. to 6 a.m. and those 16 to 17 off the streets between 11 p.m. and 6 a.m., "unless the child is going to or coming from an officially sanctioned school system program or event," his proposal reads.
He also wants to change language in the ordinance to establish a fine of up to $500 for curfew violations.
Mr. Sykes' proposal follows the December death of Marquise Byrd, 22, of Warren, Mich., a car passenger who was killed after a sandbag dropped from an I-75 overpass struck him. Toledo police arrested four teens — all younger than 16 — who officers said are responsible for the incident.
Mr. Sykes last week told his fellow council members that the woman who was driving the car when Mr. Byrd was killed is a relative of his.
"If this ordinance was in effect, I believe it would have changed the lives of several youth that are presently in jail or on trial because of crimes they allegedly committed when they should have been home in their own house," he said last week.
Mr. Sykes on Tuesday said he is interested in the city working with law enforcement, the school system, and other partners on more public-safety initiatives. He said he is interested in establishing Toledo Police Department substations in council Districts 1, 2, and 3, which he said have high crime rates.
In other business, city council approved a $6,000 increase in the chief of staff's salary. Katy Crosby, who starts March 5 in that role, will be paid $125,00 annually.
It also approved transfer of the 60-acre Toledo Botanical Gardens property to Metroparks Toledo, which took over the West Toledo park's operations in July, 2017.
Council members also authorized spending $5.44 million from the city's capital improvement fund to provide matching funds for state and federal grants and loans that together will pay for street resurfacing and reconstruction as well as bicycle path projects.
Contact Sarah Elms at selms@theblade.com, 419-724-6103, or on Twitter @BySarahElms.
Guidelines: Please keep your comments smart and civil. Don't attack other readers personally, and keep your language decent. Comments that violate these standards, or our privacy statement or visitor's agreement, are subject to being removed and commenters are subject to being banned. To post comments, you must be a registered user on toledoblade.com. To find out more, please visit the FAQ.