Maumee, Perrysburg, and Northwestern Water and Sewer District are taking the next step in exploring a partnership with Bowling Green for water.
Perrysburg City Council voted this week to approve an intergovernmental agreement to conduct a study examining the cost to latch onto Bowling Green's water system. Maumee City Council and the district's board also will vote in the coming weeks.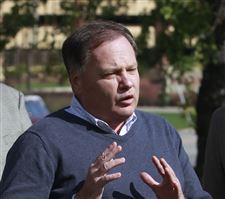 Maumee mayor Richard Carr
The Blade
Enlarge | Buy This Image
Sylvania and Monroe County are launching a similar study looking at the possibility of linking up with Great Lakes Water. The entity for a study commissioned by Maumee, Perrysburg, and the district has not yet been determined.
Still, the process to establish the Toledo Area Water Authority continues to play out. Maumee's contract with Toledo expires in 2026, and Mayor Richard Carr has been vocal about his city needing answers soon.
"We're doing our due diligence," Mayor Carr said. "Because of the delays in Toledo, we have to be in a position by year's end to know where we're going to proceed with water in 2026. This study should be done by the end of the year."
Running water lines from Bowling Green to Maumee and Perrysburg and building another intake and storage facility would take five or six years. Mayor Carr still believes TAWA is a "fair agreement," despite the hurdles to be cleared.
The Wood County Economic Development Commission carried out a pair of studies looking at bringing Bowling Green's water to Maumee, Perrysburg, and the district. They estimate the $150 million project would mean average water bills of $35.95 based on 1,000 cubic feet of usage.
Customers would pay between $37 and $47 based on the same usage under TAWA.
Contact Jay Skebba at jskebba@theblade.com, 419-376-9414, or on Twitter @JaySkebba.
Guidelines: Please keep your comments smart and civil. Don't attack other readers personally, and keep your language decent. Comments that violate these standards, or our privacy statement or visitor's agreement, are subject to being removed and commenters are subject to being banned. To post comments, you must be a registered user on toledoblade.com. To find out more, please visit the FAQ.