Vandals escalated weeks-long destruction at Forest Cemetery with an incident reported last week that disrupted two coffins in a mausoleum, Toledo police said.
The cemetery, one of five run by the city, has been struck repeatedly in recent months by vandals who have knocked over more than 100 headstones and caused thousands of dollars in damage.
A Toledo police report from July 30 states the cemetery's foreman Luke Smigielski reported a mausoleum had been tampered with and the interior may have been burned. Responding officers found two coffins removed from their respective vaults but still in the mausoleum.
Toledo police Sgt. Kellie Lenhardt, a department spokesman, said the investigation is ongoing.
"It certainly is concerning for the department," she said. "It has increased in significance in regards to amount and type of damage that was done."
Toledo City Councilman Larry Sykes, who has been a vocal critic of the repeated destruction, implored those with information to contact authorities.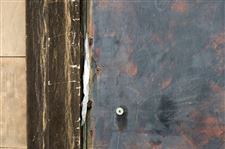 Detail of doorway of the front of the Burdick Peckham mausoleum.
The Blade/Jetta Fraser
Enlarge | Buy This Image
"To desecrate the last resting place of the deceased, it's becoming a mockery," he said Tuesday. Previous damage has included overturned headstones and graffiti.
"To break into a mausoleum, you have to be really, really sick," he said. "You're picking on someone who can't fight back and defend themselves."
Photographs posted on Facebook by Mr. Sykes show spent fireworks and overturned headstones.
Mr. Smigielski told officers the mausoleum had not been damaged on July 27 when he last checked, according to the report. The coffins inside the mausoleum appeared to have dry rot.
Lucas County Coroner Dr. James Patrick said an investigator from his office was called to the most recent scene to consult with authorities on an appropriate way to return any disrupted bones to their original resting place.
The coroner's office is notified whenever bones or remains are found, Dr. Patrick said, which could include determining if they are human or animal, or previously unknown Native American burials. The office did not take custody of any bones during the incident, the coroner said.
Rick Akeman, manager of parks, recreation, and forestry for the city, declined to comment.
"It's under police investigation and I cannot comment," he said. "They have some leads that I don't want to jeopardize."
Those with information are asked to call the Crime Stopper program at 419-255-1111.
Contact Lauren Lindstrom at llindstrom@theblade.com, 419-724-6154, or on Twitter @lelindstrom.
Guidelines: Please keep your comments smart and civil. Don't attack other readers personally, and keep your language decent. Comments that violate these standards, or our privacy statement or visitor's agreement, are subject to being removed and commenters are subject to being banned. To post comments, you must be a registered user on toledoblade.com. To find out more, please visit the FAQ.