Ramy Eidi fondly recalls his youth baseball coach, the one who said he possessed a great arm and inspired years of potential.
"In building my confidence, it made me a better player; and as a person, an individual, a young boy, realize I had capabilities. I kind of carried that on into my business career, my life," Mr. Eidi said.
Mr. Eidi, a prominent local developer, is now passing the opportunity to another generation. He announced plans that will transform a former Toledo Public Schools lot into three quality baseball fields open to the public.
The property in the 1800 block of Krieger Drive has for years sat largely vacant. Fall-Meyer Elementary School closed in 2006, and the building was demolished in 2011. Neighbors say the overgrown field now sporadically hosts pick-up football games.
But under Mr. Eidi's plan, in will come sand, backstops, batting cages, fencing, and bleachers. A third diamond will bring a practice infield with larger base paths and artificial turf, catering to teenagers or older.
Their next steps are leveling the land and securing a building permit. Mr. Eidi hopes to have the fields ready by spring.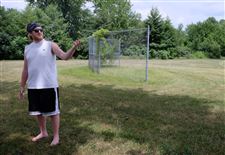 Zach Stutz, who lives across the street from the former Fall-Meyer Elementary School, which is now a baseball field at 1800 Krieger Dr. in Toledo, talks about how he's happy it might be an organized baseball field.
THE BLADE/LORI KING
Enlarge | Buy This Image
Mr. Eidi said he believes youth should interact outside with others, away from video games. Baseball can also bring a positive outcome for those with difficult upbringings, he said.
"I see in young people, if you have an outlet for them to be physically active and excel in a sport, it's good for their future. It's good for their confidence," Mr. Eidi said.
The goal is promoting baseball in the city as well as hosting league games and tournaments.
Lucas County commissioners in May accepted the land deed from TPS, later authorizing the Lucas County Economic Development Corporation to appropriate it. Mr. Eidi said he appreciated county officials' efforts.
The Eidi Foundation is making the financial investment. Mr. Eidi described the project cost as a moving target and said he could not yet provide an estimate.
Former professional ballplayer Joe Hall and his Next Level Baseball organization will oversee the program. Mr. Hall is a mentor to young athletes, he said.
Neighbors expressed mixed reactions to the proposal. Zach Stutz, 31, has lived near the property for five years.
"I'd rather see it used, especially for youth sports. Always trying to promote that the best we can. That's probably the best use for the land," Mr. Stutz said.
Bonnie Sprague shared concerns of increased traffic and trash to pick up. She hoped the land would stay as it is.
Mr. Eidi said his experience in property management means organizers will be proactive. There will be a parking lot and garbage cans to accommodate needs.
TPS spokesman Patty Mazur said she is pleased with the development of the former school site.
"We think it's a great use for that property," she said.
Contact Ryan Dunn at rdunn@theblade.com, 419-724-6095, or on Twitter @RDunnBlade.
Guidelines: Please keep your comments smart and civil. Don't attack other readers personally, and keep your language decent. Comments that violate these standards, or our privacy statement or visitor's agreement, are subject to being removed and commenters are subject to being banned. To post comments, you must be a registered user on toledoblade.com. To find out more, please visit the FAQ.