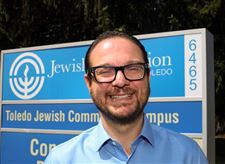 Joel Marcovitch, the CEO of the Jewish Federation of Greater Toledo, at the campus in Sylvania, Ohio on August 2, 2018.
The Blade/Jetta Fraser
Enlarge | Buy This Image
To leave the Jewish Federation of Greater Toledo isn't an easy decision for CEO Joel Marcovitch, who's preparing for his last day in the office on Aug. 17.
But Mr. Marcovitch thinks of himself more as a builder than a maintainer. In Columbus, where he'll navigate a newly formed partnership between the Jewish Federation of Columbus and the Columbus Jewish Foundation as its CEO, he's looking forward to embracing that preferred role.
"There's enough challenge there that I can stay there for a lifetime," he said.
Mr. Marcovitch, 40, leaves behind a notable mark on the community, said Eric Dubow, the federation's board president. He and past president Andy Golding noted that, under Mr. Marcovitch's leadership, the federation has both bolstered its role as a community stakeholder and prioritized a cause-based philanthropy model that encourages donors to support specific causes rather than the institution more generally.
Some of those specific initiatives under the federation include Ahava, launched in 2016 to financially support local families raising children with special needs, and EMOJI, which was launched in 2017 as a way to fund youngsters' stays at Jewish overnight summer camp. Mr. Marcovitch described the latter as a pivotal experience in developing a Jewish identity.
"Joel was able to infuse a tremendous amount of energy into our community," Mr. Dubow said. "He had the energy to see his ideas through, and the knowledge to know good ideas from bad ideas."
Mr. Marcovitch, originally of London, came to the Jewish Federation in April, 2013, bringing a professional resume that, at that point, was limited to college and university-focused leadership positions through Hillel International. Mr. Golding, who was board president when he was hired, said it was the board that took a risk in hiring a relatively inexperienced 35-year-old to head the community federation.
"His energy and knowledge are what our community needed at the time," Mr. Golding said. "It paid off major dividends."
Mr. Marcovitch was named the Jewish Federations of North America's Hero of the Year in 2011 and was recognized by 20 Under 40 Toledo in 2016. He and his wife have a 2-year-old son and 4-year-old daughter.
In moving to Columbus, Mr. Marcovitch will work with a Jewish population of about 25,000. That dwarfs Toledo's about 2,500 population. The merger between the foundation and federation that Mr. Marcovitch will oversee in Columbus brings Columbus in line with the model that Toledo has operated under since well before Mr. Marcovitch stepped in.
The Jewish Federation of Greater Toledo does not have an immediate replacement for Mr. Marcovitch, Mr. Dubow said. They're set to wrap up a strategic planning process that launched before Mr. Marcovitch announced his resignation. Mr. Dubow said the findings of the planning committee will inform the search process and criteria for a new CEO.
"I think it's going to be a sad loss for the community, but it's a great opportunity for Joel," Mr. Dubow said. "It's also a reflection on Toledo, that a much, much larger community has recognized that we have a really strong leader in Toledo."
Contact Nicki Gorny at ngorny@theblade.com or 419-724-6133.
Guidelines: Please keep your comments smart and civil. Don't attack other readers personally, and keep your language decent. Comments that violate these standards, or our privacy statement or visitor's agreement, are subject to being removed and commenters are subject to being banned. To post comments, you must be a registered user on toledoblade.com. To find out more, please visit the FAQ.