Cold case to take over TPD's social media accounts
1/10/2018
The Toledo Police Department's routine daily social media postings will be suspended Tuesday to focus solely on an unsolved homicide.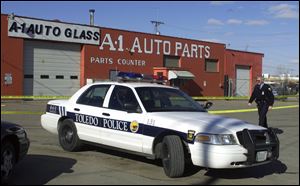 Cathy McCune was shot and killed in 2003 while working at a north Toledo auto parts shop with her husband.
Postings about Cathy McCune will take over Toledo police's Facebook, Twitter, and Instagram accounts to bring attention to the case.
On Jan. 16, 2003, Mrs. McCune was fatally shot inside the business she and her husband owned. Following the homicide, investigative leads stalled.
With the 15th anniversary of Mrs. McCune's death approaching, relatives are scheduled to meet with cold-case detectives to discuss the case, police said.
"The Toledo Police Department continues to seek justice for all homicide victims and their families," Police Chief George Kral said. "The Cold Case Unit has had significant success over the years in solving past homicides, and I am proud of their work. We need the assistance of the public in solving crime, and it is my hope that the extra attention to cold cases may generate leads for investigators."
Anyone with information should call Crime Stoppers at 419-255-1111 and may be eligible for a reward.