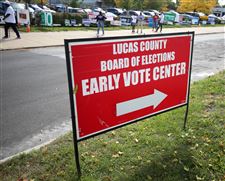 A sign points voters toward the Early Vote Center in Toledo.
The Blade/Kurt Steiss
Enlarge | Buy This Image
In the final stretch of the midterm campaign season, both parties are taking their messages on the road to get voters to the polls.
Ohio Democrats rolled into Toledo Wednesday — the first day of early voting — as part of their statewide bus tour to get party faithful voting in close statewide races. A spokesman for the Ohio Republican Party said the GOP also has a bus tour planned later this month.
"Every [statewide] race is tied in the polls," Ohio Democratic Party Chairman David Pepper said. "That doesn't happen much in Ohio."
Republicans control all five statewide executive offices and a majority of seats in the state legislature.
"Barack Obama made it look easy, but it's tough to win Ohio," Mr. Pepper said.
Toledo Rep. Marcy Kaptur, a Democrat who has represented the 9th Congressional District for 35 years, blamed partisan gerrymandering for Republicans holding 12 of 16 of Ohio's congressional seats in a swing state.
"We have the worst gerrymandered state in modern history," Miss Kaptur said.
Ohio Republican Party spokesman Blaine Kelly said in a statement the midterms come down to "results versus resistance."
"Republican policies have delivered lower taxes, higher wages, and more job opportunities across Ohio; and our candidates have offered detailed plans to keep that positive momentum going and tackle our toughest issues," he said. "Meanwhile, Democrats have shown more interest in attacking Republicans than offering solutions. On Nov. 6, Ohioans will vote to protect their future and elect Republicans up and down the ballot."
As of Oct. 9, the last day to register to vote before the election, the county had 304,000 registered voters on its rolls, 257,000 of which are active, according to the Lucas County Board of Elections.
Mr. Pepper said low voter turnout in Lucas County for past statewide elections was a factor in choosing to stop in Toledo on the first day of early voting.
"Apparently Mike DeWine doesn't understand this, but this is a really important part of the state," he said, referencing the Republican gubernatorial candidate's lack of interest in participating in a last-minute debate in Toledo against his opponent, Democrat Richard Cordray.
Out in force for the tour stop were members of the Toledo grassroots activist group, The Movement.
"This group is concerned about the community, and making sure we get people in place who are going to look out for the community," said Tina Butts, The Movement's president.
The event was held outside the Toledo Early Vote Center, 1301 Monroe St.
Contact Liz Skalka at lskalka@theblade.com, 419-724-6199, or on Twitter @lizskalka.
Guidelines: Please keep your comments smart and civil. Don't attack other readers personally, and keep your language decent. Comments that violate these standards, or our privacy statement or visitor's agreement, are subject to being removed and commenters are subject to being banned. To post comments, you must be a registered user on toledoblade.com. To find out more, please visit the FAQ.