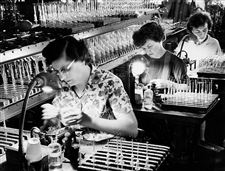 THE BLADE/Dick Greene
Enlarge | Buy This Image
Most of us don't give much thought to how our light bulbs are made, we just want them to illuminate when we turn them on.
But when you're a David battling three Goliaths — as Toledo-based Save Electric Corp. was in 1964 — finding your niche can make all the difference.
Founded in 1918 in Brooklyn, N.Y., before relocating to Toledo, Save Electric by the early 1960s was among the smaller companies competing for the 10 percent market share not claimed by General Electric, Westinghouse, and Sylvania. It succeeded by ramping up its marketing efforts and specializing in "niche" items — bulbs that fell outside the norm for the "Big Three."
In this 1964 Blade archive photo by Dick Greene, women are winding tungsten filaments onto the stems of bulbs at Save Electric's Toledo plant. Because it couldn't compete with the big boys in everyday light bulbs, the company chose to produce such low-volume items as Vibration lamps, which could withstand the repeated motion of garage doors opening and closing, and color-matching bulbs — some in batches as small as 1,000 — for fabric mills, paint manufacturers, and printing engravers.
The company also pioneered — and sold its patent to GE — inside-frosted bulbs, now standard, and glass-on-glass ceramic coating, which led to the first yellow insect-repellent lamps.
Go to thebladevault.com/​memories to purchase historical photos taken by our award-winning staff of photographers, past and present, or to purchase combinations of stories and photos.
Guidelines: Please keep your comments smart and civil. Don't attack other readers personally, and keep your language decent. Comments that violate these standards, or our privacy statement or visitor's agreement, are subject to being removed and commenters are subject to being banned. To post comments, you must be a registered user on toledoblade.com. To find out more, please visit the FAQ.