Freeman W. Hudson, a radio host and a retired maintenance worker who was supportive of his wife's legal and electoral careers, died Wednesday in the Cleveland Clinic. He was 72.
He suffered from kidney disease, said his wife, Paula Hicks-Hudson, the former mayor of Toledo.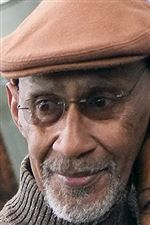 Hudson
THE BLADE/JEREMY WADSWORTH
Enlarge | Buy This Image
Mr. Hudson attended public events for his wife — speeches, celebrations, and rallies — and was content that the spotlight was hers. He did what he could to support his wife's aspirations, "but that was me," his wife said. "He believed that was something I wanted to do. He would help me at home and keep me sane.
"He was my partner. What I needed, he was there," she said. "He was my No. 1 cheerleader."
The family moved to the area in 1982 as his wife became an attorney for the Toledo Legal Aid Society. Later positions for her included Lucas County assistant prosecutor. In 2011, she won election to the district council seat to which she was appointed. Because she was council president, she became mayor in Feburary, 2015, upon the death of Mayor D. Michael Collins. That November, she was elected to complete the remainder of the term.
She currently is Democratic candidate for Ohio House District 44. He felt pride in the positions she attained, but "it didn't matter. He would be proud of any accomplishment — what I did, or the kids did, that was making the world a better place."
Mayor Wade Kapszukiewicz, who successfully challenged Mrs. Hicks-Hudson in the 2017 election, said Thursday: "I'm just heartbroken for Paula and her family. She's been a friend of mine for years, and I want to try to be there for Paula any way I can."
Mr. Hudson was born June 30, 1946, in Hamilton, Ga., to Ruby and Willis Hudson, the first of what would be seven children. He was a graduate of Booker T. Washington High School and attended Morris Brown College, both in Atlanta. He had military police duty while serving in the Air Force during the Vietnam War. He later studied broadcasting at Central State University in Wilberforce, Ohio, and while there called basketball games on the radio.
He and his wife met in Atlanta, while she was at Spelman College. As she continued her education — a master's degree in Colorado and a law degree from the University of Iowa — Mr. Hudson took to the airwaves in those locales and as "Hud" played the current hits. In Toledo, he had a show on WVOI radio. He was host of the evening Quiet Storm program for WRVF, 101.5-FM, playing requests from lovelorn or in-love listeners.
"He just had an awesome voice, a wonderful smooth delivery," said Fred LeFebvre, morning host on WSPD-AM, who hired him.
Mr. Hudson also connected with residents of the Darlington House nursing facility as he took charge of floor maintenance while working for Toledo Building Services, said Lawrence Friedman, the firm's chairman.
"He was very classy. He carried himself like the fine gentleman he was," Mr. Friedman said.
Mr. Hudson retired in 2016 from Holland Inc., where for 11 years he was a day porter, doing maintenance and cleaning at an area commercial facility.
"He was one of those guys you felt proud [to say] 'I work with him,'" said Kirk VanderVlucht, president of the commercial cleaning firm.
Surviving are his wife, Paula Hicks-Hudson, whom he married Sept. 8, 1973; daughters, Denise Hudson, Andrea Tossa Garfield, Patricia Hope Hudson, and Leah Hudson; sons, Timothy Hudson and Lamont Vasquez; brother, Randolph Ferguson, and 12 grandchildren.
Arrangements are pending.
Staff writer David Patch contributed to this report.
Contact Mark Zaborney at mzaborney@theblade.com or 419-724-6182.
Guidelines: Please keep your comments smart and civil. Don't attack other readers personally, and keep your language decent. Comments that violate these standards, or our privacy statement or visitor's agreement, are subject to being removed and commenters are subject to being banned. To post comments, you must be a registered user on toledoblade.com. To find out more, please visit the FAQ.