Charles J. Doneghy, a retired judge, community volunteer, and U.S. Army veteran, died Tuesday at his Ottawa Hills home. He was 80.
He died of complications from Alzheimer's and Parkinson's, his wife of 51 years, Lera Doneghy, said. He had overcome prostate cancer, heart disease, and water on the brain, also called hydrocephalus.
Judge Doneghy retired from the bench in 2010 at age 72 after 32 years as a judge in Lucas County Common Pleas Court and Toledo Municipal Court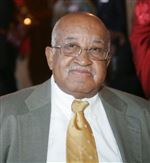 Doneghy
"I have been honored to serve as a judge for the past 32 years and can never repay the privilege afforded me by the citizens of Lucas County to serve on their behalf," he wrote in his resignation letter to then-Gov. Ted Strickland.
Said Lucas County Probate Judge Jack Puffenberger: "He was a perfect example of what a judge should be. He was very knowledgeable. And he was fair. And he was compassionate."
Prominent trials that Judge Doneghy presided over included that of Robert Jobe, who was convicted of murder in the 2007 shooting death of Toledo police vice Detective Keith Dressel.
Toledo Mayor Wade Kapszukiewicz concluded a city council meeting Tuesday by announcing the judge's passing.
"Judge Doneghy had a fantastic legal mind and was an outstanding judge," Mr. Kapszukiewicz said. "Just as importantly, he served as a mentor and role model to younger legal professionals, and he represented the very best principles of a true public servant."
Born July 4, 1938, in Toledo, Judge Doneghy graduated from Libbey High School, the University of Toledo, and its law school.
He later served stateside as a commissioned officer in the Army during the Vietnam War. Upon his honorable discharge with the rank of first lieutenant, he returned to Toledo to practice law, becoming area coordinator of federal contract compliance for the Department of Labor.
In 1969, he became assistant county prosecutor. Eight years later, when Judge Doneghy was chief assistant county prosecutor supervising a staff of 28 assistant prosecutors, the Democrat successfully ran for Toledo Municipal Court and ousted incumbent Republican Judge Gary Gabriel.
He remained a municipal judge until 1984, when he was appointed to the common pleas court after the death of Judge Francis Pietrykowski the year prior.
He was honored in 2010 by the African-American Legacy Project of Northwest Ohio for contributing to the betterment of the community. Judge Doneghy was a former chairman of the Ohio Common Pleas Judges Association and a member of All Saints Episcopal Church.
His other memberships included Criminal Justice Coordinating Council, Lucas County Mental Health Board, Old Newsboys Goodfellow Association, Frederick Douglass Community Association, and Family Services of Northwest Ohio.
"He was very caring," Mrs. Doneghy said. "He loved God, loved his family, and he loved his community. He was a very genuine and humble man. And he was a survivor."
Surviving are his wife, Lera Doneghy; daughter, Atarah Doneghy Cummings; son, Scott Doneghy; sisters, Anita Jenkins and Joan Woods, and four grandchildren.
Visitation will start at 5 p.m. Tuesday at Dale-Riggs Funeral Home, 572 Nebraska Ave.
Funeral services will be at 11 a.m. Wednesday at St. Michael's in the Hills Episcopal Church, 4718 Brittany Rd. in Ottawa Hills.
The family suggests tributes to the Alzheimer's Association of Northwest Ohio or Boys and Girls Clubs of Toledo.
Staff writer Sarah Elms contributed to this report.
Contact Mike Sigov at sigov@theblade.com, 419-724-6089, or on Twitter @mikesigovblade.
Guidelines: Please keep your comments smart and civil. Don't attack other readers personally, and keep your language decent. Comments that violate these standards, or our privacy statement or visitor's agreement, are subject to being removed and commenters are subject to being banned. To post comments, you must be a registered user on toledoblade.com. To find out more, please visit the FAQ.