Sue White, an interior designer known for bringing color and comfort to the spaces she created and a longstanding community volunteer, died Sunday in Beaume, France. She was 75.
She had an apparent heart attack, her husband, Jim White, Jr., said. They were in their hotel when she began to not feel well. They and five other couples were in France for a barge trip through the Burgundy region.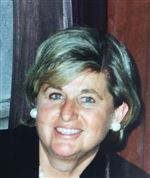 White
Mrs. White, a former elementary school teacher, pursued the study of interior design after her children left for college and received a degree from Davis College. For 18 years, she was associated with Betty Rumpf Interiors, the well-known Ottawa Hills firm.
"She had a great ability to choose and match colors, vibrant colors," her husband said. She had interior design assignments in the Toledo area, but also in the Philadelphia area and in Connecticut, Florida, and South Carolina.
She also had design projects at Inverness Club, the Toledo Club, and Stone Oak Country Club, as well as in Naples, Fla., at Royal Poinciana and Audobon Country Club.
"You were always comfortable in a room Sue designed," said Martha Mewhort, a friend since 1966.
Molly Meyers, a friend for about 15 years, said: "I tried to be like her. She epitomized a gracious lady."
Mrs. White combined her interest in preservation and adaptive reuse with her design abilities as the couple decided to make a home out of the historic stable that once held winning racehorses at Al and Billie Reuben's Hasty House Farm in Ottawa Hills.
She said, "I think maybe we can convert it to a house. I'd hate to see them tear it down," her husband recalled her saying when she learned the former farm acreage was being sold in the 1990s for residential development.
From the outside, the building resembled a French chateau, her husband said, but it had been a stable, with a dirt floor and a foundation above the frost line. The project, from pilings to roof to new wings, took about 18 months. Mrs. White incorporated the stable doors into the interior design.
"It's gorgeous. Everything's original as far as the overall structure," her husband said.
Mrs. White had been a vice president of the Junior League of Toledo and had been a president of the Toledo Museum of Art ambassadors' group. She was a former president of the Ottawa Hills Garden Club.
"She was a great listener — good leaders are good listeners — and was a good organizer. People had a lot of faith in her," said her husband, a former managing partner of the law firm Shumaker, Loop & Kendrick and vice president and secretary of the White Family Companies, which include well-known auto dealerships.
Mrs. White was born Susan Serrott, the daughter of Virginia and Edward Serrott, on Aug. 24, 1943, and grew up in Columbus. She was a 1961 graduate of North High School in Columbus, where she was a cheerleader. She received a bachelor of science degree in education from Ohio State University in 1965. She met her husband that year through a mutual friend. He had just graduated from Ohio State law school.
She began her teaching career in Philadelphia, where Mr. White attended the Wharton School of Finance, and they got engaged. After they were married, she taught first grade in Monclair, N.J., as her husband studied tax law at New York University. They moved to the Toledo area, where Mr. White grew up, when he joined Shumaker Loop. At Stranahan Elementary School in Sylvania, she took part in a team-teaching pilot program for first grade.
The family cottage at Torch Lake in northeast Lower Michigan became a gathering spot for her children and their children.
"She was an only child. She ended up with a very large family," Mrs. Meyers said. "She was the glue that held them together. All she wanted was to have her family surrounding her at all times."
Surviving are her husband, James F. White, Jr., whom she married July 30, 1966; son, James F. White III; daughter, Carey White Gifford, and six grandchildren.
The family has planned a private memorial service. A celebration of life event will take place from 5-9 p.m. Nov. 17 at ProMedica headquarters on the downtown Toledo riverfront. Arrangements are by the Walker Funeral Home.
The family suggests tributes to the Sue S. White Memorial fund at the Toledo Community Foundation or a charity or organization of the donor's choice.
Contact Mark Zaborney at mzaborney@theblade.com or 419-724-6182.
Guidelines: Please keep your comments smart and civil. Don't attack other readers personally, and keep your language decent. Comments that violate these standards, or our privacy statement or visitor's agreement, are subject to being removed and commenters are subject to being banned. To post comments, you must be a registered user on toledoblade.com. To find out more, please visit the FAQ.