The major-party candidates for governor of Ohio appeared together for just three debates this fall.
In Marietta, the candidates talked about the natural gas fracking that is a key issue for southeastern Ohio.
In Dayton, the future of Wright-Patterson Air Force Base came up.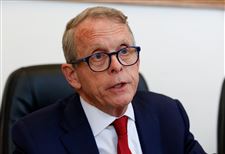 Ohio Attorney General Mike DeWine meets with The Blade editorial board Tuesday, October 9, 2018.
The Blade/Dave Zapotosky
Enlarge | Buy This Image
In Cleveland, they talked about community-police relations and public transportation.
But in Toledo, which did not host a general-election debate this year, voters have been denied the chance to watch the major-party nominees answer questions about their comparative plans to clean up Lake Erie or support the auto industry.
When the Democratic candidates visited Toledo for a debate in the primaries, it was an opportunity for northwest Ohio media to ask about our regional issues — the algae threat and the Electronic Classroom of Tomorrow scandal, for example.
But though The Blade has offered to host a fourth debate between Republican nominee and Attorney General Mike DeWine and Democratic nominee and former Consumer Financial Protection Bureau Director Richard Cordray, Mr. DeWine has refused.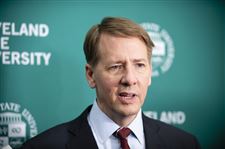 Democratic gubernatorial candidate Richard Cordray.
ASSOCIATED PRESS Enlarge
Mr. Cordray has said he would be happy to debate in Toledo. In fact, he mentioned it during the final of three debates between the two in Cleveland. Mr. Cordray, it should be said, was eager to have more debates in general. The candidates agreed on three through negotiations.
Mr. DeWine rejected calls to add a Toledo debate, telling The Blade's editorial board that the three-debate schedule is "on the high end" of what gubernatorial candidates in Ohio do, generally.
That is not necessarily true. But, even if one thinks three debates is enough, all of northwest Ohio has been left out of the debate phase of the campaign.
Ohio is diverse and its regions have diverse interests. The next governor should appear in northwest Ohio to answer questions specific to our region. And not just at campaign stops and fund-raising events.
Candidates should stand — or sit — together and answer tough questions from journalists in front of an audience. It is one of the best ways for the electorate to contrast the candidates' ideas and make an informed choice at the polls.
If Mr. DeWine and Mr. Cordray do not add a fourth stop to this year's debate tour, it will be a disservice to the voters of northwest Ohio. It should not sit well with constituents here. And it should serve as a warning to future statewide candidates tempted to leave large parts of Ohio out of any future debate plans. We will not forget.
Guidelines: Please keep your comments smart and civil. Don't attack other readers personally, and keep your language decent. Comments that violate these standards, or our privacy statement or visitor's agreement, are subject to being removed and commenters are subject to being banned. To post comments, you must be a registered user on toledoblade.com. To find out more, please visit the FAQ.