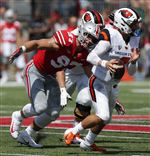 Ohio State defensive lineman Nick Bosa, left, sacks Oregon State quarterback Conor Blount during the first half on Sept. 1 in Columbus.
ASSOCIATED PRESS Enlarge
For as long as there's been football, coaches have talked about how the game is won up front, along the lines. While that often sounds like an oversimplification and cliche, it's absolutely true for Saturday's matchup between Ohio State and TCU.
The absolute strength of both teams coming into the season, at least on defense and possibly overall, resided along each defensive line. The Buckeyes returned seven players along the front from last year's unit, and they've routinely been ranked among the nation's best over the last few seasons.
Already this year, the OSU starting four have accounted for 19 tackles, nine tackles for loss, and five sacks. Nick Bosa has been unstoppable, leading the team with nine tackles, five for a loss, and three sacks, to go along with a defensive score.
If teams think they get a break when the first unit rotates out, they're sorely mistaken — sophomore Chase Young anchors the second unit with four tackles, two for a loss, and two sacks.
They'll be facing a TCU offensive line that replaced three starters from a year ago and was a major question mark entering the season. Credit to the Horned Frogs, they've yet to yield a sack this season. But then again, they haven't faced the athletes OSU brings to the game.
While TCU's defensive front might not be as deep as the Buckeyes, the Horned Frogs best playmaker lines up at left defensive end. Ben Banogu (6-foot-4, 240 pounds) won a horde of awards last year, including Big 12 Defensive Newcomer of the Year and first-team All-Big 12, after totaling 49 tackles, 8.5 sacks and 16.5 tackles for loss.
The defensive front took a major hit during the preseason when Ross Blacklock, the Big 12 Co-Defensive Freshman of the Year, was lost for the season with an Achilles injury. While there are adequate replacements available, none have the presence of the gigantic Blacklock (6-4, 329 pounds).
Banogu and Ty Summers, a converted linebacker, will create plenty of issues for the Ohio State offensive line, which needs to keep the heat off quarterback Dwayne Haskins. So far, the Buckeyes front has allowed only two sacks for nine lost yards in their two games.
Guidelines: Please keep your comments smart and civil. Don't attack other readers personally, and keep your language decent. Comments that violate these standards, or our privacy statement or visitor's agreement, are subject to being removed and commenters are subject to being banned. To post comments, you must be a registered user on toledoblade.com. To find out more, please visit the FAQ.