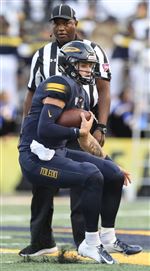 Toledo quarterback Mitchell Guadagni uns the ball against VMI during a football game on September 1 at the Glass Bowl.
BLADE Enlarge
Boise State has the turnover throne. Florida State has the turnover backpack.
But it all started with Miami's turnover chain, the gaudy chain that now features Sebastian the Ibis charm. If you've paid attention to college football over the last 12 months, you certainly know all about the bauble presented on the sidelines to the Hurricanes defensive player responsible for creating a turnover.
If Toledo wants to pull off the upset, the Rockets don't want to see any bling roaming around the visitors sideline at the Glass Bowl.
That puts a lot of pressure on first-year UT quarterback Mitch Guadagni as he faces another strong Miami defense, led by its experienced and talented linebacking corp.
Guadagni threw for 265 yards and three touchdowns in the Rockets opener two weeks ago. But let's be honest, that was against Virginia Military Institute — there is no comparing what the Rockets faced against VMI and what's in store Saturday. This is by far and away the most difficult test Guadagni has faced in his two years at UT, including last year as a backup.
The Hurricanes starting linebackers all returned from last year, Shaq Quarterman, Zach McCloud and Michael Pinckney. Quarterman and Pinckney were both listed in various preseason lists. The group accounted for eight sacks and 22.5 tackles for loss last season, and so far this year, they've combined for 27 tackles, one sack, and four tackles for loss.
Miami's strength against the run puts even more pressure on the Rockets passing game. In their first two games, the Canes have allowed 186 rushing yards, including a chilly 30 in last week's win over Savannah State. Looking back to last year, the Canes held both Notre Dame and Wisconsin to more than 100 rushing yards below their average.
The Rockets can't let the Miami defense make them one dimensional, but it will take a strong performance from Guadagni to pick up an impressive win.
Guidelines: Please keep your comments smart and civil. Don't attack other readers personally, and keep your language decent. Comments that violate these standards, or our privacy statement or visitor's agreement, are subject to being removed and commenters are subject to being banned. To post comments, you must be a registered user on toledoblade.com. To find out more, please visit the FAQ.