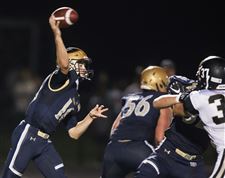 At 2-1 on the year, St. John's and quarterback Braydon Lichtenberg will host Whitmer in a TRAC showdown Friday night.
THE BLADE/JEREMY WADSWORTH
Enlarge | Buy This Image
For most of the area high school football leagues, the nonconference slate is over. Now is the time to start fighting for a conference title going into Week 4.
The first few weeks of the season provided plenty of drama. Central Catholic, Bowling Green, and Genoa have vaulted to the top of the Blade Poll, while the Fighting Irish and Comets are joined in the state polls by Anthony Wayne, Liberty Center, and McComb. In the City League, the story has been the unbeaten starts of Waite and Scott, while such teams as Whitmer, Springfield, Eastwood, and Archbold have shown they'll be in the mix for conference titles as well.
So what will happen when conference play kicks off in Week 4? Blade staff writers Steve Junga and Mark Monroe were solid in the nonconference season, each posting 20-10 records after Junga went 8-2 last week and Monroe posted a 7-3 record. But the two are, for the second year in a row, being bested by the guest pickers. Former Archbold coach John Downey went 7-3 last week, and the former coaches are now 21-9 on the year.
This week's guest picker is former Start coach Tyson Harder, who went 8-2 last year.
Tiffin Columbian (2-1) at Start (1-2): Host Spartans won 21-15 over the 0-10 Tornadoes last season. Columbian will hard-pressed to topple Start, which is gunning for a fourth straight City title.
Junga: Start, 27-26
Monroe: Tiffin Columbian, 28-21
Harder: Start, 24-21
St. Francis (2-1) at Clay (1-2): The Eagles are at home versus a team they beat 13-10 in OT in 2017. But the Knights have made great strides, and Clay is without veteran playmaker QB Reese Wamer. St. Francis' Malachi Wyse leads the TRAC with 572 rushing yards and has scored six touchdowns, while Wamer's replacement, Logan Heintschel, has thrown eight touchdown passes.
Junga: St. Francis, 30-21
Monroe: St. Francis, 35-27
Harder: St. Francis, 28-10
Findlay (1-2) at Fremont Ross (1-2): The Trojans won last year at home in 55-49 OT classic, and quarterback Tanner Rickle has thrown for seven touchdowns and scored six others. The host Little Giants look to return the favor behind QB Hayden Lehmann, who has thrown for 539 yards.
Junga: Fremont Ross, 31-29
Monroe: Findlay, 30-28
Harder: Findlay, 21-14
Whitmer (2-1) at St. John's (2-1): The host Titans have bounced back well since a Week 1 loss at Bowling Green, but the Panthers have won the last 10 meetings. St. John's sophomore Braydon Lichtenberg leads the TRAC with 884 passing yards and has a connection with Dimitri Mitsopoulas, but Whitmer's defense was strong vs. Canton GlenOak and Perrysburg.
Junga: Whitmer, 35-21
Monroe: Whitmer, 33-18
Harder: Whitmer, 35-17
Bowling Green (2-1) at Springfield (2-1): The Blue Devils have won three straight over Bobcats, and look for more of same. Springfield has outscored BG 144-91 since 2015. Springfield's aerial attack led by A.J. Gucciardo (835 yards, 10 TDs) is strong, while Bowling Green's Adam Iler has run for 277 yards and four touchdowns.
Junga: Springfield, 35-31
Monroe: Springfield, 42-37
Harder: Bowling Green, 31-28
Perrysburg (0-3) at Napoleon (1-2): Two teams moving in opposite directions. Napoleon is on an upswing in its rebuilding process, while the Yellow Jackets are still reeling from the loss of junior QB Drew Sims in Week 2. Napoleon receiver Logan Shepard averages more than 40 yards per catch.
Junga: Napoleon, 21-14
Monroe: Perrysburg, 14-9
Harder: Napoleon, 17-10
Lake (2-1) at Genoa (3-0): The Flyers hammered Genoa 55-0 in 2015, but the Comets, ranked No. 2 in Ohio's Division V, have won the last two meetings and look to make it three straight. Genoa QB Jacon Plantz is a dual threat and the Comets have allowed just 26 points so far. Lake's Harry Jackson has five touchdowns thus far.
Junga: Genoa, 34-20
Monroe: Genoa, 31-21
Harder: Genoa, 14-10
Hilltop (1-2) at Toledo Christian (1-2): The Eagles were 0-10 in 2017, including a 46-0 loss at Hilltop. But, a young Eagles lineup looks for payback led by QB Trevor Wensink, who has thrown for 640 yards and seven touchdowns.
Junga: Toledo Christian, 36-23
Monroe: Toledo Christian, 13-6
Harder: Hilltop, 20-10
Bryan (2-1) at Swanton (2-1): The Golden Bears edged the Bulldogs 27-24 a year ago, but Swanton looks to have more firepower this season, and veteran running backs Tyler Gowing and Michael Lawniczak could be the difference for the Bulldogs in this key NWOAL clash. Bryan's Nate Miller leads the league in passing, and Drew Peters is the top receiver.
Junga: Swanton, 16-13
Monroe: Bryan, 38-24
Harder: Swanton, 17-14
Tiffin Calvert (3-0) at Gibsonburg (2-1): It's a new league for the host Golden Bears, and the end of Gibsonburg's string of three straight conference titles after exiting the TAAC. Calvert's Senecas are the best team in SBC River Division, and set to prove it.
Junga: Tiffin Calvert, 27-13
Monroe: Tiffin Calvert, 30-20
Harder: Tiffin Calvert, 28-10
Don't like the picks?
Contact Steve Junga at sjunga@theblade.com, 419-724-6461, or on Twitter @JungaBlade.
Contact Mark Monroe at mmonroe@theblade.com, 419-724-6354, or on Twitter @MonroeBlade.
Guidelines: Please keep your comments smart and civil. Don't attack other readers personally, and keep your language decent. Comments that violate these standards, or our privacy statement or visitor's agreement, are subject to being removed and commenters are subject to being banned. To post comments, you must be a registered user on toledoblade.com. To find out more, please visit the FAQ.