For the University of Toledo women's basketball team, there will be plenty of new faces on the court this season.
The Rockets welcome two transfers in Tyra Carlsten-Handberg and Nakiah Black as well as three freshmen in Jaela Johnson, Sophia Fortner, and Lexi Lance.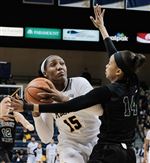 Toledo center Kaayla McIntyre puts up a shot against Wright State during a WNIT game in March at Savage Arena.
THE BLADE/JEREMY WADSWORTH
Enlarge | Buy This Image
After graduating Jay-Ann Bravo-Harriott, the second leading scorer from last year's team, Toledo coach Tricia Cullop believes the newcomers can bring some much-needed offensive punch.
"They add some additional scoring threats which we needed since we graduated Jay-Ann Bravo-Harriott, who was a great scorer for us," Cullop said. "So knowing that we have some extra 3-point threats with Nakiah and Jaela especially on either side can really shoot it. And then Tyra being a nice inside threat for us really helps."
Carlsten-Handberg brings depth at the center position behind senior Kaayla McIntyre, who led the team in scoring last season.
After sitting out last season as a transfer from the University of Illinois-Chicago, where she averaged 6.6 points and 4.1 rebounds per game in 24 starts as a freshman, Carlsten-Handberg is ready to get back on the court in game action.
"I'm very excited just because I haven't played for a year," Carlsten-Handberg said. "It's fun to be on the team side again and not just the practice team."
Black, Toledo's other transfer, comes from the junior college route. She arrives with the Rockets after playing at Tallahassee Community College, where she averaged 14.1 points per game and helped the team to a National Junior College Athletic Association championship.
"She was part of a championship at her junior college, and I think she has translated that into some tremendous leadership for our younger players," Cullop said of Black. "Even though she is new, she's a veteran as far as college basketball. In our scrimmage we had the other day, she really stood out as someone who is going to be a scorer for us and defensively she is really effective as well."
The three freshmen are adjusting to college life and the transition between the level of play in high school compared with college.
"Practice is really intense and it's way faster than high school," Johnson said. "But I'm catching on quick and my teammates are helping me out, so it has gone pretty good. [The freshmen] are going through it together and I don't feel like I'm alone. They can relate to a lot. The upperclassmen are also helping us out a lot so we don't necessarily feel like freshmen."
For Fortner and Lance, it is a unique situation because they both came from Wadsworth High School near Akron. Being from the same high school, they have someone to lean on when things get tough.
"When she first committed and I committed it was kind of like we are here together, and now it feels like we are at home together," Fortner said. "It kind of brings a sense of family to somewhere that is kind of far away."
Cullop recognizes that it takes time for freshmen to get going at the college level, but she sees the three freshmen adapting pretty well so far.
"I think for any freshman, time management skills take a little bit of time," Cullop said. "But I do think they are solid students and they are working really hard. I think the thing for them is the different nuances. What do we teach that is different as far as terminology that they maybe are not used to? It's just a little tweaked from what they've seen before. But they are picking it up quick.
"I think they bring great energy and they come from great programs where they were well coached."
Contact Brian Buckey at bbuckey@theblade.com, 419-724-6110, or on Twitter @BrianBuckey.
Guidelines: Please keep your comments smart and civil. Don't attack other readers personally, and keep your language decent. Comments that violate these standards, or our privacy statement or visitor's agreement, are subject to being removed and commenters are subject to being banned. To post comments, you must be a registered user on toledoblade.com. To find out more, please visit the FAQ.