BOWLING GREEN — The department of athletics at Bowling Green State University is reviewing its emergency protocol after admitted shortfalls during a football player's hospitalization after the Falcons' Sept. 29 game at Georgia Tech.
The Falcons' starting center, Caleb Bright, began laboring from heat-related symptoms and BGSU's medical personnel recommended immediate emergency care. An ambulance transported Bright to the trauma unit at Grady Memorial Hospital in Atlanta, where he was discharged that night.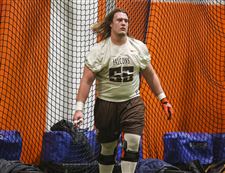 Caleb Bright, shown during a March practice, suffered a heat stroke at Georgia Tech. He will miss a second straight game this weekend, but BG expects him to make a full recovery.
THE BLADE/JETTA FRASER
Enlarge | Buy This Image
According to documents given to the Bright family upon his release, doctors concluded the 306-pound redshirt sophomore suffered a heat stroke.
Caleb's father, Scott, said his son has no recollection of playing during the fourth quarter of the Falcons' 63-17 loss to Georgia Tech.
The Brights praised the care given to their son by Bowling Green's medical staff, but said they were disappointed none of the BGSU coaches remained in Atlanta with a hospitalized player. Instead, the entire football staff returned to Bowling Green as planned after the game.
"As parents, we were very frustrated on how this situation was handled," Scott Bright said. "We wanted to make sure there are policies and procedures in place so another family doesn't have to go through what we went through."
Director of athletics Bob Moosbrugger said BGSU adhered to its emergency action plan to make sure Bright received the medical care necessary, but said the incident revealed shortfalls in providing emotional support.
"In hindsight, we recognize the protocols fall short in the human element in our own expectations of providing a great student-athlete experience," Moosbrugger said. "We could have provided more support for Caleb and his family at that time."
BG did not make football coach Mike Jinks available for comment.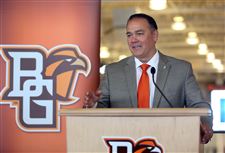 Bowling Green State University director of athletics Bob Moosbrugger said BG's emergency protocol fell short in Caleb Bright's instance, and discussion is ongoing to amend it.
BLADE Enlarge
Through a spokesperson, university president Rodney K. Rogers issued a statement to The Blade on Thursday that said he was proud of BGSU's medical team, which he said is "to be commended." But like Moosbrugger, he said the university should have done more.
"However, Bob Moosbrugger and I agree that we fell short in providing adequate follow-up support to Caleb and his family," Rogers said in the statement. "We can do better. I've apologized to the Brights on behalf of the University.
"Bob is working on enhancing our policies and procedures to address the concerns that have been raised."
Scott and Toni Bright requested a meeting with senior administration Oct. 5. Rogers, Moosbrugger, Jinks, senior associate director of athletics Kit Hughes, and team physician Dr. Jeffrey Noftz were present during the meeting.
Scott Bright called the meeting "very positive" and said he hopes it leads to action.
Moosbrugger said he met separately with Jinks as well the football program's director of operations, Collin Sexton, to discuss the incident and possible changes in the future.
"Discussions are ongoing about updating our protocol," he said. "In the future, we would consider, if the student-athlete cannot return home with the team, a full-time member of the athletic training staff, administration, or coaching staff will remain behind to support the student-athlete and their family."
Bright has not played since undergoing treatment, but he was present on the sideline during Bowling Green's Oct. 6 game at Toledo. As a precaution, Bowling Green also plans to hold Bright out of Saturday's home game against Western Michigan.
Scott Bright said he knew something was amiss when his son walked off the field at Bobby Dodd Stadium breathing heavily. In the locker room, with Bright's temperature at an alarming level, the training staff quickly put Bright into an ice bath.
An ambulance later transported him to the hospital. His parents, who had not rented a car during their trip to Atlanta, took an Uber to meet him there.
Heat stroke can cause massive organ damage or even failure if it is not treated quickly. Heat stroke claimed the life of one Division I offensive lineman, 19-year-old Jordan McNair of Maryland, earlier this year.
In Bright's case, doctors were able to stabilize his temperature and allow him to return to Bowling Green in fewer than 24 hours.
Scott Bright said "there's no doubt in his mind" that the rapid response of Dr. Noftz and BG head football trainer Dani Coppes saved his son's life.
"We're so thankful for that training staff and the doctor," Scott Bright said. "Without them doing their job and reacting so quickly, I believe my son would not be around today."
From a medical standpoint, Moosbrugger commended the staff on the care given to Bright at Georgia Tech.
However, he said BG has improvements to make if a similar situation were to arise again.
"For me, personally, it's not something I've been through," Moosbrugger said. "In hindsight, we've taken a look at it, we've talked about it a lot, and definitely feel that we can improve on making that support that the player and the parents want and need."
Contact Nicholas Piotrowicz at: npiotrowicz@theblade.com, 419-724-6110, or on Twitter @NickPiotrowicz.
Guidelines: Please keep your comments smart and civil. Don't attack other readers personally, and keep your language decent. Comments that violate these standards, or our privacy statement or visitor's agreement, are subject to being removed and commenters are subject to being banned. To post comments, you must be a registered user on toledoblade.com. To find out more, please visit the FAQ.