It was déjà vu for the Clay girls soccer team Wednesday night, as the host Eagles turned a tie against visiting Notre Dame into a Three Rivers Athletic Conference championship.
The only difference between this 1-1 stalemate in windy, rainy conditions at Clay and last year's 2-2 tie in windy, rainy weather at Notre Dame was this time Clay (12-3-1, 6-0-1) won't have any delay in celebrating its outright championship.
"We don't have to wait," Clay coach Don Hess said. "We're done. We wanted to win today, and we got that first goal. But we knew that second half was going to be tough going into that wind.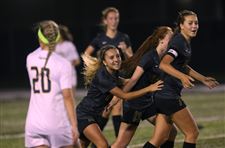 Clay's Rylee Clark, 2nd from left, and her teammates celebrate a goal against Notre Dame.
THE BLADE/LORI KING
Enlarge | Buy This Image
"We were on our heels most of the time, and that's what happens. But, we don't have to wait to find out what happens. We are taking a couple days off and will get ready for the tournament."
Last season, Hess' team had to wait after its 2-2 tie on a Wednesday until a 1-1 Notre Dame tie with rival St. Ursula turned Clay's TRAC title share into a solo crown.
With Notre Dame (7-2-6 overall) entering Saturday's traditional regular-season finale against St. Ursula at 4-0-2 in TRAC play, the Eagles of Sylvania Avenue have already been locked out by the Seaman Road Eagles of Oregon.
The teams are likely to have a rematch in the Division I district semifinals on Oct. 22, provided Clay can get past Southview and ND can defeat Springfield in next Wednesday's sectional finals. That potential Clay-Notre Dame district game is set for 8 p.m. at Springfield.
"We're very excited about the state of the program," Hess said. "We had five freshmen step up and play in this game, and we only have two seniors on the roster. So, we're very excited about where we're at right now, and where we're going."
In a first half in which Clay controlled a slight majority of possession time and scoring chances, it took somewhat of a fluke bounce to emerge with a 1-0 lead.
That fortuitous carom happened with 8:59 left in the half, when a hard, left-footed shot from 25 yards out by Clay's mighty-mite junior midfielder Rylee Clark was initially stopped by Notre Dame goalkeeper Katie Wisniewski.
But Wisniewski was unable to secure the ball, which bounced down to the field turf and spun behind her into the goal. It was Clark's third goal of the season, and the biggest of her high school career.
"I didn't think it was going in," Clark said. "I'm definitely right-foot dominant, and when I hit it with my left foot I was like 'Oh boy.' As soon as it went in my heart dropped, and I was like, 'We got this.' It was amazing."
Clark saw the goal as an example of why Clay's program has been successful in recent seasons.
"Being a midfielder you don't always get the credit, and you don't always score the goals," Clark said. "But, it's a team effort, and it wouldn't have come if we didn't pressure those balls. It was all about effort in that game.
"It's like making a statement. Everyone always thinks that the private schools are always going to win because they always have more club players. But, we just bring in the effort, and it works."
Play went back and forth between Clay and Notre Dame for the remainder of the half and the first 17 minutes after halftime.
First, Notre Dame earned a penalty kick with 22:47 left in the game when junior forward Rachel Spencer was fouled by Clay junior fullback Mariah Segura.
But the PK by ND senior midfielder/defender Sydney Unverferth sailed above Clay junior goalkeeper Kennedy Slovak and off the crossbar as Clay maintained its 1-0 lead.
That break was only a temporary reprieve for Clay against Notre Dame's offensive pressure.
ND's All-Ohio senior forward Ashley Barron missed with a hard try just outside the left post, before cashing in for the tying goal, her 13th of the season, 23 seconds later with 21:27 remaining.
At that point, it was clear the game's momentum had shifted until Clay regrouped and staged three minutes of a steady offensive attack beginning with around 15 minutes to play with Barron out via substitution.
"We had to go for it," Notre Dame coach Chip Smith said." We told the girls before the game – and they knew the situation – that a tie or a loss wasn't going to do us any good.
"The wind was definitely a factor for both teams. They played really well in the first half, and we played really well in the second half. I told the girls I was proud of their effort, but we just lacked a little bit of quality and focus, and that was the difference."
Refreshed, Barron returned with just over 11 minutes to go. But Notre Dame was unable to mount a serious scoring threat down the stretch with Clay playing a defensive scheme as the clock ticked away to its third TRAC title in five seasons.
"We couldn't get the ball past midfield with that wind," Hess said. "We just couldn't possess. Eventually, a couple times, we were able to get it down the field to give our backline and our midfield some rest.
"We knew it was going to be a battle. Every time we line up against Notre Dame it's about 500 minutes of tie-ballgame soccer."
Contact Steve Junga at sjunga@theblade.com, 419-724-6461, or on Twitter @JungaBlade.
Guidelines: Please keep your comments smart and civil. Don't attack other readers personally, and keep your language decent. Comments that violate these standards, or our privacy statement or visitor's agreement, are subject to being removed and commenters are subject to being banned. To post comments, you must be a registered user on toledoblade.com. To find out more, please visit the FAQ.