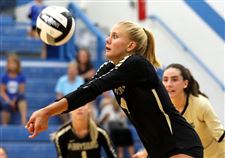 Perrysburg's Kat Mandly, shown in a match against Anthony Wayne this season.
The Blade
Enlarge | Buy This Image
Perrysburg claimed a second consecutive Northern Lakes League title with a sweep of rival Maumee.
The Yellow Jackets defeated the Panthers 25-20, 25-17, 25-23 to repeat as outright NLL champions. Perrysburg improved to 17-5 overall and finished 13-1 in league play, splitting its head-to-head matches against Southview.
"That was one of our big goals for the season," Perrysburg coach Laura Davidson said. "The NLL is a very strong league, so it's not an easy task. Our girls worked very hard every single match."
Outsider hitters Kat Mandly and Maddy Adamski led the way but Donaldson said it was a team effort.
"The special thing about our team is that we can spread the ball around," she said. "We have the athletic talent to move the ball around and be unexpected."
Guidelines: Please keep your comments smart and civil. Don't attack other readers personally, and keep your language decent. Comments that violate these standards, or our privacy statement or visitor's agreement, are subject to being removed and commenters are subject to being banned. To post comments, you must be a registered user on toledoblade.com. To find out more, please visit the FAQ.