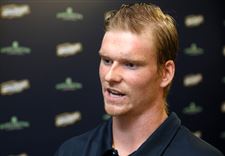 New Walleye forward Greg Wolfe speaks during an interview ahead of season ticket holder event at the Huntington Center on Thursday.
THE BLADE/KURT STEISS
Enlarge | Buy This Image
Two of the Toledo Walleye's newest forwards decided to join the organization after coming away impressed with memorable experiences as visitors to the Huntington Center.
Rookie Tyler Spezia and veteran Greg Wolfe attended games at the downtown arena and loved the energy and excitement in the building.
"It's a great place to watch a game and I can't wait to play here," said Spezia, who will start his pro career in Toledo after playing four years at Bowling Green State University.
Wolfe, an ECHL veteran with 174 career games under his belt, suited up as an opponent against Toledo in the 2015 home opener. He had three shots on goal in Adirondack's 1-0 win before a crowd of 8,317 at the Huntington Center.
"It was a sold-out crowd," Wolfe said. "The atmosphere was incredible."
WATCH: Greg Wolfe says Toledo one of the best minor hockey cities in North America
Wolfe has played three seasons in the ECHL with Reading, Alaska, and Adirondack. He said the Walleye have earned the reputation as an annual contender for the Kelly Cup.
"Guys around the league want to play in Toledo. It's a coveted place," Wolfe said. "Toledo is a place that lots and lots of guys want to come to. It has a great reputation."
Spezia appeared in 147 games at Bowling Green. The 25-year-old said he often would make the 25-minute drive to catch a Walleye game in Toledo when his schedule with the Falcons would allow it.
"As a college kid, I'd come up here and watch some games," Spezia said. "It was crazy with the atmosphere and the fan base and the facilities. And the winning culture they have here would attract anybody."
Wolfe and Spezia spoke at a Walleye season ticket holder event attended by about 1,300 fans at the downtown arena Thursday.
"I'm looking forward to playing for these crazy fans that I'm about to meet here," Spezia said moments before addressing the crowd.
The Walleye, who will be celebrating their 10th year as an ECHL franchise, have finished with the best record in their conference each of the past four seasons. Toledo also has been just one step away from playing in the Kelly Cup Final in two of the past four seasons, reaching the conference finals in 2014-15 and 2016-17.
"Toledo always seems to have a good team," Wolfe said. "I've heard nothing but good things — the professionalism and the fans."
Wolfe, who attended Michigan State from 2011-14, has been a captain at several stops in his career.
Walleye coach Dan Watson said Wolfe is a top-notch ECHL player, singling out the forward's stellar career plus-minus rating of plus-35.
"Wolfe has tremendous experience, including being a two-time captain at Michigan State," Watson said.
Wolfe played last season in Norway, where he had 16 goals and 17 assists in 26 games for Sparta Sarpsborg. Wolfe is a native of Canton, Mich., which is about an hour from Toledo.
"Toledo is close to home," Wolfe said. "That makes it nice to be around friends and family."
Spezia, who had 72 points with 24 goals and 38 assists in his career at BGSU, grew up about an hour and 20 minutes from Toledo in Clinton Township, Mich.
"It's good to be close to home," Spezia said. "My family and friends can come and watch me play."
Spezia served as an assistant captain as a senior last season and produced 10 goals with six assists. The 5-foot-10, 160-pound forward had a plus-minus rating of plus-34. He produced a career-high as a junior when he collected 30 points (8 goals, 22 assists). The assists led the Falcons in the 2016-17 season.
Watson said Spezia benefited from playing for highly-regarded BG coach Chris Bergeron, which will help him transition easily to the pro game.
"Tyler brings an exciting skill set to our team," Watson said.
Spezia considers himself to be a player that can provide energy.
"I hope to provide some spark," he said. "Skating and speed is my game. And I'll do whatever it takes to win. I play a 200-foot game. I'm a two-way player. I take pride in playing in my own zone."
Toledo opens the season Oct. 12 at Greenville. The home opener is Oct. 27 against Fort Wayne.
"I want to learn as much as I can and take it all in," Spezia said.
Wolfe has tallied 55 goals and 84 assists for 139 points in his ECHL career.
"I hope to be able to play in all situations," Wolfe said. "I like to forecheck and to try to win the puck. I'll support my linemates and get the puck to them. And then when I have a chance, I need to score some goals. My goal is to bring a consistent energy."
Wolfe is one of 14 players that have signed to play for the Walleye this season. The group includes productive returning forwards Shane Berschbach and A.J. Jenks along with three-time ECHL defenseman of the year Matt Register. Watson has placed an emphasis on adding bulk, with an average size of 6-2, 202 pounds on the roster so far.
"I think we have a good group of guys," Wolfe said. "We have to have one of the biggest defensive groups in the league. That will be nice having some guys that can throw the body around. Matt Register will be a huge part of it. He has a really good reputation and he gets it done year in and year out. And we have some forwards that are going to be really good. I've played with and against them over the years. Top to bottom we're going to have a lot of depth."
Contact Mark Monroe at: mmonroe@theblade.com, 419-724-6354, or on Twitter @MonroeBlade.
Guidelines: Please keep your comments smart and civil. Don't attack other readers personally, and keep your language decent. Comments that violate these standards, or our privacy statement or visitor's agreement, are subject to being removed and commenters are subject to being banned. To post comments, you must be a registered user on toledoblade.com. To find out more, please visit the FAQ.