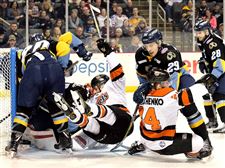 Toledo Walleye goalie Pat Nagle defends the net against the Fort Wayne Komets. The ECHL has implemented video replay at four venues this season, including Toledo's Huntington Center.
THE BLADE/JEREMY WADSWORTH
Enlarge | Buy This Image
The ECHL announced Thursday that the Toledo Walleye will be one of four teams in the league that will have instant replay available for all home games this season.
Referees now can review four scenarios involving plays around the goal by utilizing overhead cameras at four venues.
As part of the pilot program, four arenas will have instant replay available: the Huntington Center in Toledo; CenturyLink Arena in Boise; Wings Event Center in Kalamazoo, Mich.; and DCU Center in Worcester, Mass.
At the referee's discretion, these are the circumstances eligible for instant replay:
■ Puck crossing the goal line;
■ Puck entering the net using a distinct kicking motion;
■ Puck directed, batted, or thrown into the net by an attacking player; and
■ Puck entering the net before the goal frame is dislodged from its moorings.
"With the speed and caliber of play in the ECHL, this program will help our officials get the call right on plays around the net," said Joe Ernst, the league's senior vice president. "We reviewed the system with our referees at ECHL officiating training camp, and believe that once this program tests successfully, we can move towards use in all ECHL markets in subsequent seasons."'
Contact Mark Monroe at: mmonroe@theblade.com, 419-724-6354, or on Twitter @MonroeBlade.
Guidelines: Please keep your comments smart and civil. Don't attack other readers personally, and keep your language decent. Comments that violate these standards, or our privacy statement or visitor's agreement, are subject to being removed and commenters are subject to being banned. To post comments, you must be a registered user on toledoblade.com. To find out more, please visit the FAQ.