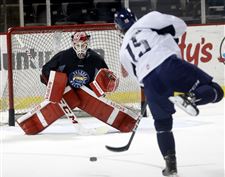 Goaltender Kaden Fulcher stops a shot by Dylan Sadowy (15) during an open session of the Walleye's training camp at the Huntington Center.
BLADE Enlarge
The Toledo Walleye opened the preseason Friday with a 4-2 win at Kalamazoo.
Hunter Smith, Greg Wolfe, Kevin Tansey, and Tyler Spezia scored goals for the Walleye. Rookie goaltender Kaden Fulcher went the distance and made 23 saves.
Toledo hosts the K-Wings at 7:15 p.m. Saturday in the team's lone preseason game at the Huntington Center.
General admission tickets are $5 with proceeds to benefit the Walleye Wishing Well charity fund.
The regular season begins Oct. 12-13 with a pair of games at Greenville.
Guidelines: Please keep your comments smart and civil. Don't attack other readers personally, and keep your language decent. Comments that violate these standards, or our privacy statement or visitor's agreement, are subject to being removed and commenters are subject to being banned. To post comments, you must be a registered user on toledoblade.com. To find out more, please visit the FAQ.