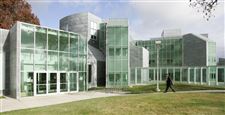 University of Toledo Center for the Visual Arts
The Blade
Enlarge | Buy This Image
A lecture and opening reception for a local artist scheduled for tonight has been canceled, after University of Toledo officials closed the Center for Visual Arts for heat problems.
Artist Leslie Adams was scheduled to talk about her Handwritten Dreams Project that was opening tonight, along with two other exhibitions at the center. All three were to be celebrated at a reception following the talk in the gallery at CVA, which is located next to the Toledo Museum of Art.
UT officials said they originally thought they could host the event, but that the lack of air conditioning in the building made it too dangerous.
"We will be rescheduling the lecture and reception in the near future, once our air conditioning issues are resolved," UT's School of Visual and Performing Arts stated in a news release.
Handwritten Dreams is open through July 7.
Two other exhibitions at the CVA are currently being exhibited: a presentation of work by artist educator Amy Pollman and her students, and the show Dear,:Love, by artist Ella Musher-Eizenman.
Guidelines: Please keep your comments smart and civil. Don't attack other readers personally, and keep your language decent. Comments that violate these standards, or our privacy statement or visitor's agreement, are subject to being removed and commenters are subject to being banned. To post comments, you must be a registered user on toledoblade.com. To find out more, please visit the FAQ.