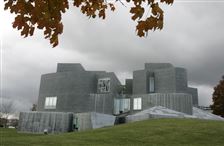 University of Toledo Center for the Visual Arts
The Blade
Enlarge | Buy This Image
The University of Toledo's Center for the Visual Arts has closed an exhibition by local artist Leslie Adams after air conditioning issues continue to plague the center.
A conservation expert recommended that Handwritten Dreams be moved to a safer, climate-controlled environment, according to a news release sent from the university. The show transverses the importance of learning cursive handwriting through the writing of one's own dreams; and part of the show was the postings from more than 50,000 visitors at previous installation who were invited to write their own dreams on pieces of paper and post them at the exhibition.
Along with the closing of the show is the cancellation of Adams' artist talk that had been scheduled for Friday.
The show and talk were delayed once before, when the center, located next to the Toledo Museum of Art on Monroe Street, began experiencing the HVAC issues at the end of May. The university states in its release that it "is committed to working with Adams to find a time and venue to present the interactive exhibition in Toledo."
For more information on Adams' work, go to leslieadams.com.
Guidelines: Please keep your comments smart and civil. Don't attack other readers personally, and keep your language decent. Comments that violate these standards, or our privacy statement or visitor's agreement, are subject to being removed and commenters are subject to being banned. To post comments, you must be a registered user on toledoblade.com. To find out more, please visit the FAQ.