Fiat Chrysler Automobiles has said it will begin winding down operations in the south portion of its Toledo Assembly Complex on April 13 to begin preparing the facility to build an all-new Jeep Wrangler pickup truck — a move that will mean temporary layoffs for about 850 FCA employees.
In documents filed with the state of Ohio earlier this week and made public Wednesday, the automaker said the layoffs will come in seven waves between April and early June. All the layoffs are temporary, although FCA says it expects the employees will be off work for more than six months.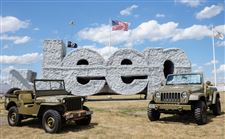 Fiat Chrysler Automobiles has announced layoffs at its Toledo Assembly Complex.
THE BLADE
Enlarge | Buy This Image
An additional 346 employees at Kuka Toledo Production Operations will also go on a temporary layoff April 13, documents show. Kuka builds bodies for the prior-generation JK Wrangler in a facility next to FCA's Jeep plant. Another on-site supplier, Mobis North America, will have its own temporary layoff of 572 employees, starting April 7. Mobis assembles the Wrangler's chassis.
Taken together, those announcements would appear to confirm the last day of production for the prior-generation JK Wrangler is April 13, although a spokesman for Fiat Chrysler declined to confirm that.
Production of the new JL-generation Wrangler, which began late last year in a separate part of the Toledo Assembly Complex, is not affected by the moves.
The shutdown of the plant is not a surprise. Automakers regularly have lengthy temporary layoffs as they transition assembly plants to build new products, and top Fiat Chrysler executives had indicated earlier this year that production of the outgoing Wrangler was likely to end in April.
Once the assembly line goes silent, the company will begin to retool the plant to build the Wrangler truck. That vehicle could possibly be shown to the public before the end of the year and is scheduled to go on sale sometime in 2019.
Fiat Chrysler has not said exactly how much it will be investing in Toledo to ready the plant for the truck. A little more than a year ago the company said Toledo would share in a $1 billion investment with the company's assembly plant in Warren, Mich. The automaker spent about $700 million preparing the north side of the plant for the new Wrangler, although that was in some ways a more complex changeover.
Union officials have previously said between state unemployment benefits and a supplemental unemployment benefit paid by Fiat Chrysler, workers on a long-term, temporary layoff receive about 95 percent of their take-home pay, although that compensation is still taxed.
Employees being laid off from suppliers are eligible for unemployment compensation, but not FCA's supplemental unemployment benefits.
Contact Tyrel Linkhorn at tlinkhorn@theblade.com, 419-724-6134, or on Twitter @TyrelLinkhorn.
Guidelines: Please keep your comments smart and civil. Don't attack other readers personally, and keep your language decent. Comments that violate these standards, or our privacy statement or visitor's agreement, are subject to being removed and commenters are subject to being banned. To post comments, you must be a registered user on toledoblade.com. To find out more, please visit the FAQ.