MIKE Hart of Hart Inc. was the man of the hour for the Press Club of Toledo's Ribs and Roast 2018 at the Premier. Shamrocks and gold-covered chocolate coins set the scene for the proud Irishman, entrepreneur, and community philanthropist. Mr. Hart's favorites were served including cocktails, nachos, the Press Club's famous Broadcaster sandwich, chili, jelly beans, and more.
Emcee Tom Walton got in a few jabs, especially since he knew Mr. Hart's late father, Tom Hart, who founded Hart Inc. and was a long time Press Club member.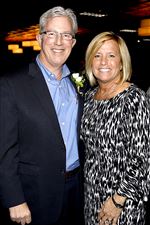 The guest of honor Mike Hart and his wife Kelly attended the Press Club of Toledo's Ribs and Roast Thursday, February 1, 2018, at The Premier in Toledo.
The Blade/Katie Rausch
Enlarge | Buy This Image
Costume clad Anita Lopez and Gina Teague members of the Clown Corps presented balloons to Mr. Hart, who has been a Clown Corps member for 20 years.
Mayor Wade Kapszukiewicz presented a proclamation after he joked that he knows "Mark ... er ... Mike Hart," and knew his father "Todd er Tom Hart."
Parker Kern, a BGSU broadcast journalism student and son of Mr. Hart's college buddy, Kirk Kern, provided a humorous background of Mr. Hart's party days as a BGSU student.
Kathleen McCreery Merrill of ProMedica, who has known Mr. Hart for 28 years, talked about her experiences while working at Hart then being a client. She joked that by the time Mr. Hart told her all of the not-to-mentions that may be embarrassing there wasn't much to share — but she did.
Mr. Hart's longtime neighbor Jim Lindsey of Louisville Title summed up all the qualities everyone had previously mentioned: true friend, honest, kind-hearted, genuine, fun loving, and trustworthy, to name a few.
Mr. Hart got his chance to rebuttal and said thanks for the honors, but not before a special surprise was presented on behalf of the Press Club by board member Kurt Franck, president, general manager, and executive editor of The Blade, to emcee Tom Walton, retired Blade editor and vice president who writes a regular column for the newspaper. Mr. Walton received the Norm Cartwright Award, the highest honor from the club for his club dedication and service. He was nearly speechless.
Hobnobbing among the news makers and shakers were press club board members Chrys Peterson, Chrys Peterson Consulting; Larry Boyer, Waterford Bank; Athena Cocoves, Toledo City Paper; B.J. Fischer, Thread Marketing; Kim Sidwell, Imagination Station, and myself. Others in attendance were Mr. Hart's wife Kelly Hart, and community leaders including Bob and Kim LaClair, Councilman Cecelia Adams, Jim Bingle, Jack and Diana Randolph, Melanie Maraugha, Richard and Paula Sweeney, Lori Dixon, Jim Essig, Kelly Kessler, James Bailey, Lori Hauser, Jerry Brown, Karen Merrels, John Martin, Rhonda Sewell, Jeremy and Kara Zeisloft, and Jill Nissen.
Sponsors included Hart Inc., American Interiors, Bowling Green State University, Cuttlefish Graphics, Findley Wise, First Energy, Great Lakes Marketing Research, HCR ManorCare, Hylant, Imagination Station, Louisville Title, Madison Avenue Marketing Group, ProMedica, TARTA, The Blade, Toledo Lucas County Public Library, Waterford Bank, and WTOL-TV, Channel 11.
THE 21st annual Wild Game Dinner presented by the Toledo Club was once again a popular event. Vendor displays provided entertainment for the fishermen, hunters, and curious carnivores, and dinner was adventurous with frog legs, duck, antelope and wild boar, to squid, octopus, turtle, crawfish, alligator, venison, elk, monkfish, ostrich, bison, and more.
A live auction included a pheasant hunt, a wild game dinner, a weekend at a cabin in Grayling, Mich., a signed Harold Roe print, a duck hunt at Erie Marsh, and a Long Key, Fla., vacation. Raffle prizes included guns, cleaning kits, cigars, a camera, a hunting vest, and wines.
Barbara Hendel is The Blade's society editor. Contact her at bhendel@theblade.com or call 419-724-6124.
Guidelines: Please keep your comments smart and civil. Don't attack other readers personally, and keep your language decent. Comments that violate these standards, or our privacy statement or visitor's agreement, are subject to being removed and commenters are subject to being banned. To post comments, you must be a registered user on toledoblade.com. To find out more, please visit the FAQ.