There's something magical about Chloe Benjamin's latest novel.
The Immortalists, released Tuesday by Putnam Penguin Random House, is generating the type of buzz of which most writers can only dream. It is the No. 1 pick on the American Booksellers Association's January Indie Next List and touted as a must-read by such publications as Harper's Bazaar and the Huffington Post. The Jackal Group has also acquired the rights to turn the story into a cable television series.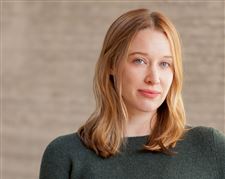 Benjamin
NATHAN JANDL Enlarge
"It's always a shock when something takes off, especially in publishing where so few books do, but I also had just a really strong instinct about this book from the beginning," Benjamin said. "I've been thrilled ... but I always felt this was a special book when I was writing it."
Benjamin will discuss her novel at 7 p.m. Monday at the Literati Bookstore, 124 E. Washington St., Ann Arbor.
The Immortalists tells the story of the Gold siblings — Simon, Klara, Daniel, and Varya — who as adolescents visit a mystical traveling psychic and are told the exact day each will die. The information they receive has a profound effect on their choices into adulthood.
Simon, the youngest, drops out of high school and travels to 1980s San Francisco in search of love. Klara sets out to succeed in the male-dominated field of magic, first in California and later in Las Vegas. Daniel becomes an Army doctor who examines new recruits for fitness of duty, and Varya, a bookish loner, embarks on a career researching the effects of science on longevity.
In addition to magic, the Golds' Jewish faith is an underlying theme of their story. Benjamin said magic and faith are more intertwined than one might think.
"For me, the book is about how all of these characters cope with the uncertainty of human life," Benjamin said. "For some of them, religion offers them a sense of solace and direction, and for others it might be magical thinking, or even mental illness, that allows them to make sense of the world. ... I wanted to explore the way those belief systems would kick into action in the face of this kind of knowledge."
Benjamin said she grew up with two religious traditions. Her mother was raised Episcopalian with Benjamin's grandfather a minister. Her father, an atheist, was raised in the Jewish faith, and her stepmother is a Jewish spiritual director.
"She really brought Judaism into our home," Benjamin said. "I was just really fascinated by it. When I was a kid, I asked if she would teach me Hebrew. ... I love the traditions and the rituals. It kind of inspired me to explore my family's history."
The Immortalists is divided into four sections, with each sibling taking center stage for a time.
With two siblings that are scientific-minded and two others gravitating toward the arts, the Golds have very different ideas about life and death.
"I wanted to make sure that they each had their own distinct orientation of the world but have them be connected because they grew up in the same petri dish," she said.
In many ways, each sibling stands alone in the book, an idea that Benjamin says comes from the idea that everybody's life can be its own book.
"I think some families are more intertwined than others, and in this book, I think it's as much about the siblings' absence in each other's lives [as] their presence," she said.
The author said she has something in common with each of the Gold children.
"I'm a worrier like Varya, though not as severe as she," Benjamin said. "I relate to Klara's ambition and her big dreams and her passion. ... I think I'm the farthest from Daniel, given he's so conservative, but I still have a soft spot for him all the same."
What people might not expect, she said, is that she has parallels with Simon's storyline. After the author's parents divorced, she was raised by her dad and stepmom as well as her mom and her longtime partner.
Benjamin was also a dancer like Simon.
"I actually share a lot of DNA with that section, even if I'm not a gay man," she said. "Simon's risk-taking and his boldness, I think I'm too much of a worrier for that."
The Immortalists also raises questions about whether life has a preordained end or if one's choices ultimately define its finish.
"I actually don't have a firm belief about that one way or another," she said. "I wanted to write the book in a way that would leave that open to interpretation. ... I like to hear what people think and be part of those debates."
Benjamin, originally from San Francisco, is a graduate of Vassar College and received her master of fine arts degree from the University of Wisconsin-Madison. She lives with her husband in Madison, where she said there is an awesome literary community.
"I love the Midwest," she said. "I love fall and I love winter. It's the hot summers that I have a hard time with."
Benjamin has also had success with her first novel, The Anatomy of Dreams. Though it had a much smaller release and was only in paperback, it received the 2014 Edna Ferber Fiction Book Award and was long-listed for the 2014 Center for Fiction First Novel Prize.
Benjamin said the biggest surprise surrounding The Immortalists has been the television aspect.
The production company working on the project is the Jackal Group headed by Gail Berman, who served as executive producer on Buffy the Vampire Slayer and its spinoff, Angel. She has also served as president of entertainment of Fox Broadcasting Co. and as president of Paramount Pictures.
Benjamin acknowledges that it's impossible to know if the project will ever make it to the screen, but she said there's been some positive progress. A writer was recently assigned to the project, but that person's identity has not yet been released.
Benjamin said her involvement with adapting The Immortalists for television will be in a consulting role. For now she's promoting the novel on a tour that will cover 15 cities in 17 days, and she's already working on her next book.
"I'm way too superstitious to talk about it," she said.
Contact Shannon E. Kolkedy at: skolkedy@theblade.com.
Guidelines: Please keep your comments smart and civil. Don't attack other readers personally, and keep your language decent. Comments that violate these standards, or our privacy statement or visitor's agreement, are subject to being removed and commenters are subject to being banned. To post comments, you must be a registered user on toledoblade.com. To find out more, please visit the FAQ.