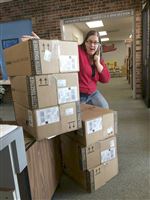 Tifany Fugate, library director at Butler Public Library in Butler, Missouri shows off the shipment of new books the library received with grant money from the Dorothy Louise Kyler Foundation " We are incredibly thankful for the grant - it was a boost for not only the children, but our entire community."
Butler Public Enlarge
Nobody hushed Tifany Fugate when she cheered in the middle of Butler Public Library.
It might help that she's the organization's director, but the excitement was understandable regardless: She opened a letter from the Dorothy Louise Kyler Foundation and found a check worth $3,000. With just one donation, the Missouri library doubled its annual budget for children's books.
"Everyone in the community has just rallied because of this," Ms. Fugate said. "We still have a long ways to go, but this has been a huge boost to our children's books collection."
The foundation is based out of Holland and was founded seven years ago in honor of a local businessman's mother. The group awards thousands of dollars in grant money to benefit children's programs — especially libraries — all over the country.
With the money, Ms. Fugate has purchased more than 300 books so far and expects to spend the rest of the funds by March. The money came at a good time, as a recent purge of old and damaged books left Butler's collection fairly sparse. The library has no tax base for support, instead relying heavily on donations or memorials.
"I just sent [the foundation] fairly general information, and then I was just trying to plead our case," Ms. Fugate said. "I said, 'This is our community, we need this. We desperately need this.' And they listened."
The foundation, in part led by Midwest Tape owner John Eldred, is a family endeavor. Mr. Eldred can still remember when his mother, Ms. Kyler, told him the story of Gone with the Wind. Though he was a young child at the time, the memory has stuck with him, affirming his goal to get children the resources to read. He believes children need books, movies, or audiobooks more than anyone else who goes to the library.
Though Ms. Kyler passed in 1984, Mr. Eldred and three relatives are still working in memory of a woman described as an avid reader. The foundation's members seek libraries or organizations in rural areas or those experiencing a high degree of poverty. After initial research, the foundation sends a letter asking for more information and if the library or group wants grant money.
Financial records show the foundation has donated to libraries anywhere from South Carolina to West Virginia, and Ohio libraries have also received funds in the past. The foundation also grants money to groups that aren't libraries, such as local organizations like JJ Safe House Domestic Violence Shelter and Polly Fox Academy, a school for pregnant and parenting teenage girls.
The foundation gifted a total of $110,000 in 2016, the most recent year data was available.
"Some of the libraries in different states are very underfunded, to the extreme that they haven't gotten new children's books for six months, a year, or sometimes even longer," Mr. Eldred said. "You get letters you'd never imagine you were getting. [This is] just a way to help them out."
Guidelines: Please keep your comments smart and civil. Don't attack other readers personally, and keep your language decent. Comments that violate these standards, or our privacy statement or visitor's agreement, are subject to being removed and commenters are subject to being banned. To post comments, you must be a registered user on toledoblade.com. To find out more, please visit the FAQ.