A Perrysburg woman has combined a dream and a fascination with British history to craft her debut novel.
This week Kelli Nelson released her debut novel, Hidden, under the pseudonym Kelli Clare.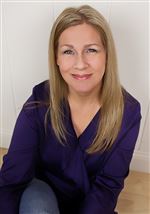 Author Kelli Clare.
CARLI FELIX Enlarge
Clare will host an official launch party from 6 to 8 p.m. Friday at Bar Louie, 4105 Levis Commons Blvd., Perrysburg. The event will include a meet and greet and book signing; copies of Hidden will be available for purchase.
Clare is partnering with independent bookstore Gathering Volumes, and Rebecca Regnier, a former local television reporter, will serve as the host.
Hidden is a romantic thriller that centers on Ellie James, a small-town Connecticut art teacher who forges a connection with mysterious Englishman Will Hastings. When her family ends up dead, Ellie must decide if Will is trustworthy or dangerous. After narrowly escaping an attempt on her life, Ellie runs off to England with Will and finds herself in the midst of a shadowy and possibly deadly secret society.
Clare pulled the idea for Hidden from her interest in the Cousins War, later known as the Wars of the Roses, in the mid to late 1400s.
"It's got kind of a unique premise," Clare said of Hidden. "I took a piece of 15th Century English history, gave it a little twist, and I pulled it into what I thought it might look like today. And then that became the foundation for an intense love story."
Clare has lived in Perrysburg for 16 years, but has lived in northwest Ohio her whole life. She graduated from Gibsonburg High School. Clare, a single mom, said she's always been a private person and publishing Hidden has taken her out of her comfort zone. She has a 10-year-old daughter and a 23-year-old son.
"Putting my work out there is this fashion wasn't the easiest thing to do," she said. "It took me a while before I'd even consider doing it, but I'm glad I did."
The story in Hidden is an expansion of a dream.
"I didn't know who [these two characters] were or what their story was … It wouldn't leave me alone and I knew I had to do something with it," she said of the dream. "That's when I decided to write this book and publish it. It was fun figuring out who they were. I think my love of English history guided me in that story."
Though it's not yet available in stores, Hidden has generated some early buzz. It was included in PopSugar's Summer's Hottest New Books, and selected as the 2018 International Book Awards winner in cross-genre fiction and the 2018 Next Generation Indie Book Award winner for romance.
Clare, who attended the University of Toledo, is a former human resources executive and contributer for blogs and websites focused on women's and children's issues. Hidden is her "first dive into fiction," she said.
To publish her novel, she chose to work with SparkPress, a hybrid publishing house that allowed Clare to be fully involved in the process.
"I didn't go the traditional route like many authors do with querying agents and querying the big five publishers," she said. "The reason I chose this path is because I am a totally hands-on type of person. I wanted to know the industry and the business and I wanted to have my hands in it."
She released an audio version of Hidden in mid-May that is available at Amazon, Audible, and iTunes. Award-winning narrator Karissa Vacker provides the voice; she also is heard on Bonfire, a suspense thriller by Krysten Ritter of Marvel's Jessica Jones.
"She does a terrific job of bringing the story alive," Clare said.
Hidden is the first book in a planned trilogy, Clare said. The first book is told from the female protagonist's point of view. The second will be told from the male protagonist's view, and the third will be a combination of the two.
Then, Clare plans to tackle a "straight-up thriller" without the "heavy romance," she said.
Clare said she's always been a writer and an avid reader.
"I was that kid in high school who liked to write the essay, which is crazy because no one liked to do that, but I did," she said.
She traces her love of reading to summer days in Toledo spent sitting on the porch with her grandmother.
"She always had her nose in a book and it influenced me," Clare said. "I wanted to know what world she was living in. Why did she always have a book? So I snuck off with one of her books one day — probably one that was inappropriate for me at like age 12 or something … That was all it took. It was a boom and I was hooked kind of thing."
The Friday launch party not only celebrates Hidden but recognizes the support Clare has found.
"I've had such an awesome support system," she said. "I couldn't have done this without my friends and family. Writers of fiction kind of live in two worlds; you live in your real world and then you have to go into your fictional world when writing. My family has been amazing at allowing me to go back and forth and being tolerant of that. … They were a big part in helping me accomplish this book."
Contact Shannon E. Kolkedy at: skolkedy@theblade.com.
Guidelines: Please keep your comments smart and civil. Don't attack other readers personally, and keep your language decent. Comments that violate these standards, or our privacy statement or visitor's agreement, are subject to being removed and commenters are subject to being banned. To post comments, you must be a registered user on toledoblade.com. To find out more, please visit the FAQ.