Some Wolverines play for scout's honor
Practice team lends support to regulars
11/14/2017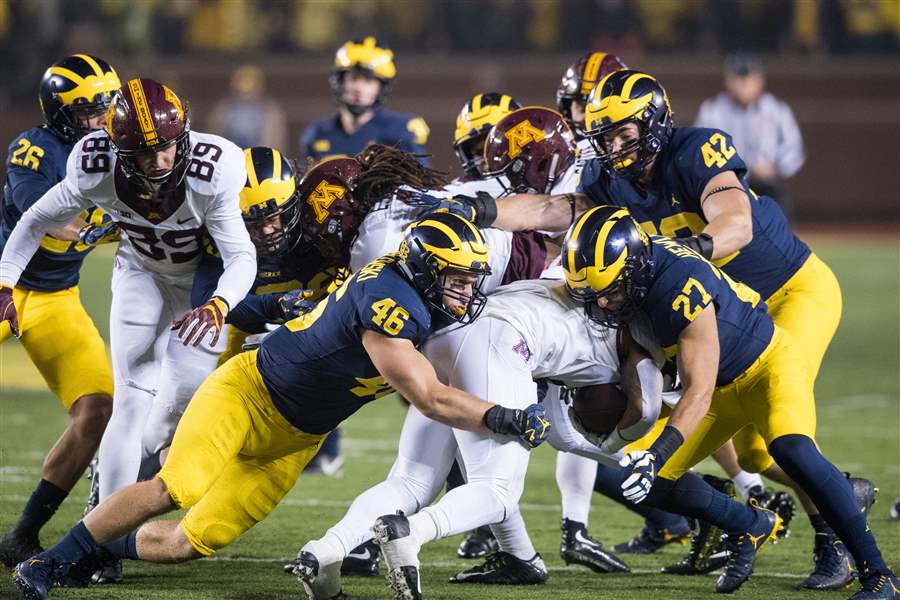 University of Michigan players Michael Wroblewski (46) and Joe Hewlett (27), both walk-ons turned scholarship players, combine to make a tackle during the Nov. 4 game vs. Minnesota.
UNIVERSITY OF MICHIGAN
ANN ARBOR — He might be the only person in the country who's mimicked J.T. Barrett's elusiveness and the breakaway speed of Saquon Barkley. And chances are you've never heard of him.
His name is Joe Hewlett, and he's 6-foot, 195 pounds and hails from suburban Detroit. Hewlett is one of the valued members of Michigan's scout team, which gives the Wolverines a sneak peek of their gridiron opponent each week during team practice sessions.
It's a rag-tag group of undersized zero-stars that weren't even a blip on the radar during the recruiting process. Division I coaches were not offering scholarships and recruiting services didn't list their names. But the underappreciated players who go unnoticed by the public are now vital piece of a program that oozes history.
"Our guys have been unbelievable," said Michigan coach Jim Harbaugh, who played on the scout team in college and with the Chicago Bears. "This year is the best I've ever been associated with. Offensively, defensively, and special teams, it's been really good. I think guys like to practice, I really do. Real football players like practicing and like working. But it's a lot of work on scout team. I really appreciate the work that they put in and the effort. The talent on our scout team has risen each year."
Step into the Don Brown's lair, and you're likely to come out thinking the Michigan scout team could give the New England Patriots a run for their money. Brown, the defensive coordinator, does his best to have the scout team replicate the Ohio State, Michigan State, and Penn State offenses. In his trademark booming voice, he extols the group's worth, which seems to be above market value.
"Our scout team without question, with (freshman quarterback) Dylan McCaffrey at the helm, they go now," Brown said. "It's next door to what you want on a Saturday. In terms of giving us a chance from a preparation standpoint, all those things are in place. It's a good deal."
Scout teamers operate Sunday through Friday knowing that the allure of Saturday beckons, but will likely go unheeded. What is life like as a scout team player? Well, by nearly every metric, they are smaller and slower than their counterparts on the first-team offense and first-team defense. So bruises, aches, and pains are part of everyday life.
However, it's not as if the players aren't skilled. In many cases, they were star players in high school who were overlooked by second-tier Division I programs.
"Sometimes you're getting your face beat in," sophomore defensive lineman Carl Myers said. "It definitely takes a lot to get back up to the line and keep doing it over and over and over again. Coach Harbaugh always says we have to build a callus. I feel like we're on the scout team building our callus, so when we're hopefully in the rotation, we've been knocked down before and we've gotten up and kept going. I feel like we're building up strength and mental toughness to keep going."
Throughout the week, Myers is lining up across from such starters as Michael Onwenu, Ben Bredeson, and Patrick Kugler. It doesn't matter that Myers is 6-foot-3, 268 pounds. He signed up to prepare the Wolverines for Saturday's opponent.
"All those guys are coming off the ball hitting you hard," said Myers, who's played in one game at Michigan. "You can't be afraid to hit them back. It's the best thing for them, and you're helping yourself out as well."
How does one reconcile with the grinding, punishing nature of football, a rigorous academic institution, and only faint hope of playing on Saturday? Ask that question to Jameson Offerdahl and his quizzical facial expression serves as a response.
"Being able to play on scout team is like playing football for me," he said. "It's a good way for me to get out there and play and have fun and not worry about schemes. I just play, and my audience is the whole offensive staff."
Offerdahl, a sophomore linebacker, has turned into a scout team maven. Inquire about the unit and a coach is almost certain to utter Offerdahl's name. His brother, Drew, played for Michigan from 2012-2014 and his dad, John, played collegiately at Western Michigan for John's father Jack Harbaugh and former UM assistant Greg Mattison before a successful NFL career with the Miami Dolphins.
Jameson played only four games in high school because of three knee injuries. He sent that four-game tape to college coaches and, unsurprisingly, didn't receive any scholarship offers. Offerdahl was a coveted preferred walk-on recruit, though, similar to a five-star who decides between the best programs in the country. He chose Michigan over Alabama, Miami, and Florida.
"Jameson Offerdahl has been probably the best [player on scout team]," Harbaugh said. "He's been really good. It's going to lead to playing time. In fact, we're getting him ramped up on more special teams."
Yet another knee injury sidelined Offerdahl during his freshman season, but he's since become a weekly presence in Michigan's preparation. He's been recognized as a scout team player of the week five times, including the Cincinnati game when Offerdahl was both the defensive and special teams player of the week.
"The ultimate goal in coming here is to play," said Offerdahl, who hasn't appeared in a game. "Not being able to play is frustrating because you want to be on the field. But it's an awesome opportunity to get my playing in during the week. I love it. I give it all I got and have fun."
Coaches are choosy with their preferred walk-on spots, much like they are with scholarship offers. They want the best player possible at every position, even if it's someone who probably won't play in a game. The process usually includes a player's high school coach and a member of the Michigan staff. Players will visit campus and attend games just like any other recruit, though there's much less selling of the program.
"They know we really want to be here," Hewlett said.
The service academies were interested in Myers, but donning the maize and blue was a lifelong dream, so he opted to pay to attend Michigan, shunning a free education.
"I really felt like this was the best fit for me, and I wanted to get a great education," Myers said. "Ever since I was a little kid, this has been my dream school. For as long as I can remember, I've been a fan. My parents are fans. I wanted to accept the challenge and be the best football player I could be.
"My parents are great. They wanted me to follow my dreams and make the decision that's best for me. That contributed to me being comfortable being able to do that and turning down things that might have helped my family out. They 100 percent had my back."
Hewlett is the rare scout team player who earned a scholarship, which might explain why he's never seen the movie Rudy. The senior received the good news in August, and one could surmise that Hewlett deserved a scholarship solely for his portrayal as the Air Force quarterback.
Michigan began preparing for the triple-option offense in the spring, and Hewlett took more than 500 snaps during game week as the scout team quarterback.
"It's not a thankless position," said Hewlett, who has three special teams tackles this season, including a touchdown saver at Maryland on Saturday. "You do get recognized for hard work and playing well. There's an incentive to playing hard."
Everyone is a hopeless romantic at heart. We want a perfect love story, a picturesque wedding, and a beautiful family. The college football equivalent is starring at a blue-blood program, spending several years as the Big Man On Campus, and being revered for a lifetime.
Scout team players share those visions, hanging on to the 1 percent chance that they could be the next Rudy — or current college stars Baker Mayfield, Hunter Renfrow, or Levi Wallace.
"Nothing is going to be handed to you," Myers said. "The biggest thing a scout team guy or a walk-on can do is when they get a chance, no matter how little it is, you have to take full advantage of it."
Contact Kyle Rowland at krowland@theblade.com, 419-724-6110 or on Twitter @KyleRowland.