ANN ARBOR — Michigan's 1996 upset of Ohio State was more than just a shocking result.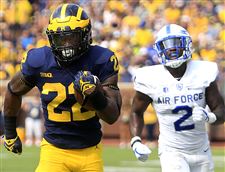 Michigan's Karan Higdon says small mistakes have hurt the Wolverines during an 8-3 campaign.
BLADE/KURT STEISS Enlarge
The 13-9 victory over the undefeated, second-ranked Buckeyes changed the complexion of the Wolverines' fourth consecutive four-loss season and acted as a springboard for the following year when Michigan won its first national championship since 1947.
There are eerily similar themes surrounding this year's game. Michigan has had five straight years of at least three losses, Ohio State has an opportunity to win the national championship, the Buckeyes are a double-digit favorite, and the Wolverines have visions of entering the national conversation next season.
Beating Ohio State would not only end a five-game losing streak to the Buckeyes, Michigan would be 20 meters down the track from the starting blocks, the 2018 season looking brighter each step.
"It's the crescendo of the regular season," Michigan coach Jim Harbaugh said. "It's our team's opportunity to put an exclamation point on the season."
This season was billed as a rebuilding year until Michigan's defense ambushed Florida in the opener. One look at UM's defense changed the outlook for some, but the facts still remained that the offense was missing too many pieces. When musical chairs began at quarterback, losses were inevitable for a team that enters The Game at 8-3.
RELATED: 'Zero chance' Harbaugh leaves UM, confidants say
But the tone of the offseason will change with a win Saturday. The result of the Ohio State-Michigan game lingers for 365 days. If you win, it infuses confidence and makes December, January, and February a little warmer.
"We're very desperate for the win," senior fullback Khalid Hill said. "We need it as a team; we need it as a program. We haven't beaten Ohio State for a while. It'd be something special to be part of the team that [ends the losing streak]."
Instead of non-stop discussions about Harbaugh's viability as Michigan's coach, the media and Wolverine fans would focus on a 2018 season ripe with expectations. Michigan is a young team this season and, one year after losing virtually everyone, the Wolverines would return a sizable portion of their roster.
"I feel like our team's improved each week and has already shown that they can play to the level with anybody in the country," Harbaugh said.
A pedestrian offensive line is again the weak link. Michigan ranks in the bottom of the country in sacks and tackles for loss allowed. Against the best teams on the schedule, a common theme has been a missing run game.
The commonality after those games — all losses — is players and coaches alike detailing small mistakes. They've been mental and schematic, narrowing the margin for error for a team that already has shortcomings.
"We've all been at fault for those things we can't have happen," junior running back Karan Higdon said. "It's little things. It happens all the time in college football and pro football. To be excellent, you have to work on little things.
"We know our potential. We know where we can be, and we're continuously working through that."
Harbaugh grew up in Ann Arbor, he's understood the importance of the Ohio State game for a lifetime, he guaranteed victory in 1986 and backed it up, and he knows what the power of beating your rival can hold for the future.
"I believe we're close," Harbaugh said. "I really do right now believe we are close to greatness. Our opportunity to do that next is this big game. That's what we want to see. We want to take control of that and make that happen."
Contact Kyle Rowland at krowland@theblade.com, 419-724-6110 or on Twitter @KyleRowland.
Guidelines: Please keep your comments smart and civil. Don't attack other readers personally, and keep your language decent. Comments that violate these standards, or our privacy statement or visitor's agreement, are subject to being removed and commenters are subject to being banned. To post comments, you must be a registered user on toledoblade.com. To find out more, please visit the FAQ.