COLUMBUS — Moments after beating the No. 1 team in the Associated Press poll for the first time in 13 years, Ohio State's two best players fielded a simple question.
Is Ohio State basketball back to where it once was?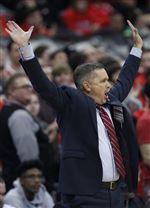 Ohio State coach Chris Holtmann reacts to a play during Sunday's game against Michigan State.
ASSOCIATED PRESS Enlarge
Before Jae'Sean Tate could answer, teammate Keita Bates-Diop whispered just loudly enough for the nearby microphones to catch his words.
"Say yes."
Tate laughed, but said there still was a lot of basketball to be played, and Bates-Diop backpedaled with "I'll just say we're on the right track."
It was impossible for the Buckeyes or their fans to feel anything other than jubilation Sunday about where Ohio State's program stands.
Behind a career-high 32 points from Bates-Diop, the Buckeyes crushed No. 1 Michigan State 80-64. Ohio State led for the final 31 minutes of the game and was up by no fewer than 12 for the duration of the second half.
It would be an understatement to say little was expected of Ohio State during the 2017-18 season, and yet the Buckeyes are 13-4 overall and 4-0 in the Big Ten, tied for first with Purdue.
RELATED CONTENT: OSU men take down top-ranked Michigan State
After his biggest win at OSU, even first-year coach Chris Holtmann admitted all of this has happened pretty quickly.
"No, I'm surprised," Holtmann said. "Coaches get surprised. I got surprised. I'm surprised."
The Buckeyes went 7-11 in the Big Ten last year, missed the NCAA tournament for the second consecutive year, fired longtime coach Thad Matta in June, and returned just six scholarship players to the roster.
The Buckeyes used a piecemeal effort at the 11th hour to add depth. Kyle Young asked for a release from Butler to join Holtmann at OSU. Andrew Dakich graduate transferred to assist the Buckeyes' painfully thin backcourt, and Musa Jallow reclassified to begin college a year ahead of schedule.
That all three became rotation players immediately spoke to the dire straits in which OSU's roster was in the summer. Before the season, most predictions had the Buckeyes finishing no better than 11th in the 14-team Big Ten.
As the first week of January concluded, a different question is on the table for Ohio State.
Can the Buckeyes become an NCAA tournament team in Year 1 of Holtmann's tenure?
There is a long road yet to travel, and in a college basketball, 10 weeks is an eternity. But there was no doubting Ohio State had changed its projected ceiling after this result.
"I think we were all aware going in what the questions were and the prognostications were," Holtmann said. "I just think we've got a lot that we've got to continue to prove. I don't think right now we can rest on our laurels. That's for sure, because we won't be playing in any postseason if we do, if we get complacent."
No trophies are handed out in January, and plenty can — and will — change before Selection Sunday in March.
But the type of win Ohio State earned is one that changes the season. The Buckeyes will shoot into the top 30 of the RPI rankings and they likely will be ranked themselves come Monday.
"That's what we came here for, is to be one of the teams that are always looked at as the top teams in the country," Bates-Diop said. "We've had a down couple years, obviously, but this is the start of what we — inside this locker room and inside this place — wanted to get to by the end of the season. This is the start of it."
Holtmann apologized if he sounded like New England Patriots coach Bill Belichick, when he said Ohio State must move on from its key win as quickly as possible.
This game was fun and memorable and poignant for Ohio State, but it was a mile marker, not the end.
Now, by the Buckeyes' own doing, there are expectations the rest of the way, and still plenty of basketball on the schedule.
"We could go in the tank here the next couple weeks," Holtmann said. "We certainly don't want this moment to define us, and we don't want it to be the pinnacle of our season. That's the challenge for us moving forward."
Contact Nicholas Piotrowicz at: npiotrowicz@theblade.com, 419-724-6110, or on Twitter @NickPiotrowicz.
Guidelines: Please keep your comments smart and civil. Don't attack other readers personally, and keep your language decent. Comments that violate these standards, or our privacy statement or visitor's agreement, are subject to being removed and commenters are subject to being banned. To post comments, you must be a registered user on toledoblade.com. To find out more, please visit the FAQ.