MT. PLEASANT, Mich. — The Bowling Green State University women's basketball team was buried under an avalanche of 3-point shots as Central Michigan claimed a 90-54 victory over the Falcons at McGuirk Arena Wednesday.
The Chippewas made 10 3-pointers, including eight in the first half, while BG connected on just 4-of-16 3's and just 19-of-60 shots (31.7 percent) from the floor in the game.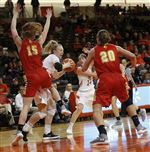 Bowling Green's Maddie Cole, a Northview High School graduate, is shown in a game against Ferris State earlier this season. Cole scored six points off the bench in the Falcons loss at Central Michigan Wednesday.
Blade/Lori King Enlarge
The Falcons (8-7, 0-4 MAC) were led by Andrea Cecil, Carly Santoro and Haley Puk with seven points each, while Clare Glowniak and Maddie Cole had six apiece.
Reyna Frost scored 25 points for Central Michigan (12-3, 4-0 MAC), Presley Hudson had 18 points and nine assists while Tinara Moore added 14 points.
The Falcons stayed close for the game's first four minutes until Hudson's jumper at the 6:01 mark jump-started a 10-point run by the Chippewas to take a 17-7 lead, a run that Cecil stopped with an and-one basket with 2:09 on the clock.
Central Michigan made 5-of-8 3-pointers in the first quarter – with four different Chips making at least one – to lead 25-14 at period's end.
While Bowling Green was not able to cut its deficit to single digits, the Falcons stayed close through the first four minutes of the second quarter, with a 3 by Puk making the score 33-22 with 6:04 to play.
But the Chippewas dominated the rest of the period, outscoring BG 20-5 to lead 53-27 at the half.
In the third quarter Cassie Breen and Hudson each hit 3's that helped Central Michigan increase its lead to 65-34 with 5:38 to play. The Chippewas eventually led by as many as 36 points, although a layup by Kennedy Williams just before the buzzer cut the advantage to 76-42.
Bowling Green's reserves got off to a 7-2 start in the fourth quarter but could not sustain it as CMU outscored the Falcons 14-12 in the final period.
The Falcons return to action Saturday when they play at Akron.
Contact John Wagner at jwagner@theblade.com, 419-724-6481, or on Twitter @jwagnerblade.
Guidelines: Please keep your comments smart and civil. Don't attack other readers personally, and keep your language decent. Comments that violate these standards, or our privacy statement or visitor's agreement, are subject to being removed and commenters are subject to being banned. To post comments, you must be a registered user on toledoblade.com. To find out more, please visit the FAQ.