WEST LAFAYETTE, Ind. — For Ohio State, this sound was supposed to be years away.
Silence is currency for any road team in college basketball, and beating one of the top men's basketball teams in the country before a fervent crowd one of its biggest badges of honor.
With a steady comeback, a bit of luck, and a well-timed offensive rebound by Keita Bates-Diop, the Buckeyes earned their biggest win in years Wednesday at Purdue, a 64-63 decision that gave the No. 3 Boilermakers their first loss at Mackey Arena this season.
Bates-Diop's putback with 2.8 seconds remaining Wednesday was the high point of an Ohio State season that, improbably, has the Buckeyes in position to win the Big Ten.
BRIGGS: Win proves OSU a national contender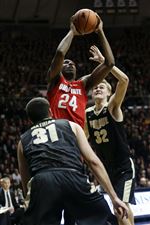 Andre Wesson chipped in a career-high 13 points to help the Buckeyes beat Purdue.
ASSOCIATED PRESS Enlarge
"I knew we could do this," said forward Andre Wesson, who scored a career-best 13 points. "A lot of people didn't think we could do this, but I knew we could."
With five games to play in the Big Ten regular season, it's the Buckeyes — and not Purdue or Michigan State — who hold the No. 1 seed in the conference.
The 14th-ranked Buckeyes (21-5, 12-1 Big Ten) are tied with Purdue atop the league standings, and they own tiebreakers with both the Boilermakers and Spartans because of head-to-head victories.
Ohio State's victory against Purdue had all the makings of a blowout loss. Ohio State didn't score until its 10th possession. Kam Williams, its best shooter, missed the game because of a suspension. Starting forward Kaleb Wesson was in foul trouble all night and played only 12 minutes.
Purdue led by 14 midway through second half and was on the verge of running away with the game.
Then the Buckeyes stole a win from Purdue anyway.
"We're pretty mature and really experienced, so no matter how much time is left — six, seven, eight minutes in the game — we feel like we can come back," Bates-Diop said.
The Buckeyes' role players saved the day. Musa Jallow, encouraged by Ohio State coach Chris Holtmann before the game to "let it fly," made three 3-pointers. Andrew Dakich overcame a miserable first half with a clutch offensive rebound on OSU's final possession.
After falling victim to a banked-in 3-pointer earlier this season in its lone conference loss vs. Penn State, OSU was on the fortunate end against Purdue when Andre Wesson's wayward triple inside the final two minutes went off the glass and in the net.
"We're 1-1," Holtmann joked. "Basketball gods, we're 1-1."
When the night was finished, the Buckeyes had their best win of the season.
"This is maybe the best road environment in the Big Ten, so to win here and show the composure we had is big for our team," Bates-Diop said. "It's super hard to play here, and we showed great poise and great maturity [Wednesday]."
Holtmann held off on any talk of winning the league, even though his team is in position to do so during the final month of the season.
The postseason won't arrive for another month, but so far, the Buckeyes consistently have been better than the sum of their parts.
Asked why that has been the case, Andre Wesson answered without hesitation.
"I'd probably say the coaching staff," Wesson said. "They've just done a good job coming in a little late and gathering everyone together and making us follow their plan."
Contact Nicholas Piotrowicz at npiotrowicz@theblade.com, 419-724-6110 or on Twitter @NickPiotrowicz
Guidelines: Please keep your comments smart and civil. Don't attack other readers personally, and keep your language decent. Comments that violate these standards, or our privacy statement or visitor's agreement, are subject to being removed and commenters are subject to being banned. To post comments, you must be a registered user on toledoblade.com. To find out more, please visit the FAQ.