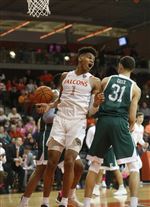 BGSU's Demajeo Wiggins reacts after teammate Derek Koch scored to bring the Falcons within 5 points of Eastern Michigan Saturday at the Stroh Center. Bowling Green rallied from 19 points down to beat the Eagles in overtime.
Blade/Jetta Fraser Enlarge
BOWLING GREEN — Bowling Green State University men's basketball coach Michael Huger is not a fan of games like Saturday's against Eastern Michigan.
"I don't like them at all," Huger admitted.
His problem was with the start, not the finish, as the Falcons trailed by as many as 19 points in the first half yet found a way to claim a thrilling 70-63 Mid-American Conference overtime win at the Stroh Center.
"It lights a fire under us after we don't come out as strong as we should," said Demajeo Wiggins, who finished with 17 points and 15 rebounds. "It was, 'Uh oh, in the second half we have to turn it up.'
"If it leads to wins, we'll take it. But that's never the plan."
For the second home game in a row, the Falcons overcame a first-half deficit of 19 points to win, improving to 15-10 overall and 6-6 in the MAC.
Wiggins was one of five BG players to finish in double figures as the Falcons improved to 4-0 in overtime this season — including 2-0 against EMU. Matt Fox and Dylan Frye each made four 3-pointers for 12 points, and Derek Koch and Justin Turner each added 10.
Elijah Minnie finished with 17 points for the Eagles (14-11, 5-7) while James Thompson posted a double-double with 10 points and 11 boards.
VIDEO: Bowling Green-Eastern Michigan
Eastern Michigan got off to a fast start, just as Kent State did against the Falcons one week earlier. EMU led 10-2 less than four minutes in, and a 19-7 run late in the first half gave them a 36-17 advantage with just 2 minutes, 12 seconds left.
"We weren't being aggressive on the offensive end, and that gave them transition buckets," Wiggins said.
It did not help the Falcons were just 6-of-24 from the floor (25 percent) and turned the ball seven times. That helped the Eagles get out in transition, making 13-of-23 shots (56.5 percent).
"We were relying too much on our offense," Huger said. "We had great looks, but we missed [shots].
"And on the defensive end we didn't give the effort we needed until the second half. They were able to move wherever they wanted to move, drive wherever they wanted to drive, and shot wherever they wanted to shoot. …
"And when they made shots, their confidence goes through the roof."
Trailing 38-21 at halftime, the Falcons went to work. They scored the first four points of the second half, and a nine-point run helped BG briefly cut the deficit to single digits at 40-31 with 16:25 to play.
Then Bowling Green scored seven consecutive points, the last coming on a 3 by Frye that tied the game at 55 with 4:36 to play.
"We had better shot selection [on offense]," Wiggins said of the second half. "We were talking more — and we just had to have the want-to, to play defense."
But BG's offense struggled in the final minutes,and a driving basket by Paul Jackson with 1:12 left gave the Eagles a 60-57 lead. Neither team scored on its next possession, and an EMU foul with 10 seconds to go allowed the Falcons to set up an inbounds play in front of their own basket.
"We ran a curl option, and Justin was the first option off the curl and Dylan was the second look," Huger said. "Matt was the third option — he was the final option."
But Fox was ready for his moment in the spotlight.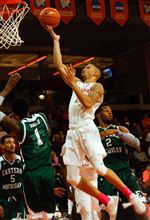 Antwon Lillard scores for Bowling Green State University over Eastern Michigan's Tim Bond. Bowling Green beat Eastern Michigan in overtime, 70-63.
Blade/Jetta Fraser Enlarge
"I knew that play was coming, and before he drew it up I knew they would collapse to whomever I passed it to — and I knew I would be open," Fox said. "I had that as my mindset before I even shot it."
Fox passed it to Frye, who quickly returned it to the senior from Anthony Wayne. Fox's shot from about three feet behind the arc found nothing but net to tie the game and force overtime.
In the extra period, Bowling Green was superb, stopping the Eagles on nine of their 10 possessions. The Falcons were so good they never made a basket and still outscored EMU 10-3 because they made nine of their final 10 free throws.
"Guys were just locked in," Wiggins said. "Everything on the defensive checklist, I thought we checked.
"We had two turnovers fighting over rebounds, but that's about the only thing we didn't do right."
Huger hopes the win helps the Falcons on Tuesday, when they host Western Michigan.
"I thought what happened [against Kent State] prepared us for Ball State," Huger said. "We didn't have Demajeo, and we came down the final seconds with a chance to take the lead. …
"But it's still one game at a time. And the next game is Western."
NOTES: Bowling Green played without sophomore guard Rodrick Caldwell, who was not in uniform because of a wrist injury. Huger said he is hopeful Caldwell will be able to play Tuesday. … Falcons assistant coach Anthony Stacey also was not at the game because of a quadriceps injury he suffered Friday.
Contact John Wagner at: jwagner@theblade.com, 419-724-6481, or on Twitter @jwagnerblade.
Guidelines: Please keep your comments smart and civil. Don't attack other readers personally, and keep your language decent. Comments that violate these standards, or our privacy statement or visitor's agreement, are subject to being removed and commenters are subject to being banned. To post comments, you must be a registered user on toledoblade.com. To find out more, please visit the FAQ.