This year's Mid-American Conference women's basketball season is about to hit the home stretch. So this week's MAC Power Rankings will do the same.
Since the MAC women's basketball tournament is less than a month away, this week's ranking will ignore divisions and instead focus on seedings. And that is especially important for two reasons: First, the teams with the top records in the league draw automatic byes into the tournament quarterfinals, to be played on March 7 at Quicken Loans Arena in Cleveland; and second, the teams ranked fifth through eighth will play their first-round MAC Tournament games at home.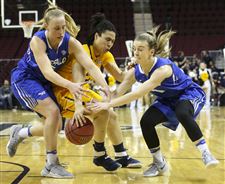 Toledo's Jay-Ann Bravo-Harriott, center, fights Buffalo's Katherine Ups, left, and Stephanie Reid, right, for a loose ball during the during the MAC Tournament last season.
Blade/Katie Rausch Enlarge
And wait, there's more: There is a bonus at the bottom of this page.
But don't cheat; first, check out the latest MAC power rankings for women's basketball this season. And spoiler alert: These rankings are not perfectly aligned with the standings.
1) Central Michigan (20-3, 12-0 MAC) – This does not surprise you, does it? The Chippewas remain the MAC's lone unbeaten, although that mark will receive a challenge Wednesday when CMU plays at Buffalo. Even if the Chips lose on the road, they would still remain a game ahead of the Bulls for the tournament's top seed. (Last week: 1 West).
2) Buffalo (19-4, 10-2 MAC) – The Bulls remain a strong second in the standings – in fact, UB holds a two-game lead AND a win over the third-place team. Buffalo can make a claim on the top spot with a win in the home rematch with Central Michigan on Wednesday. But the Bulls need help if they wish to be the tournament's top seed (Last week: 1 East).
3) Ohio (13-10, 7-5 MAC) – Yes, I know the Bobcats a 1½ games behind Ball State in the race for the tournament's third seed. I also know that a short-handed Ohio squad beat the Cardinals last week. And I know the Bobcats need help – not to mention a win at home against Buffalo in about a week – to surpass Ball State. If OU gets that win, remember that you read it here first (Last week: 2 East).
4) Ball State (20-4, 9-4 MAC) – When the Cardinals are "right," they can beat any time in the conference. Ball State certainly proved that in the non-conference by knocking off Vanderbilt, Purdue, and Western Kentucky. But when shots are not falling and this team is not meshing, well, the Cards can be dealt with. BSU will finish in the top four, I'm pretty confident. But higher than fourth? The Cardinals may have to get things "right" to do that (Last week: 2 West).
5) Miami (15-9, 7-6 MAC) – I will admit that it shocks me to have the RedHawks so high in these rankings. But Miami had won five in a row before suffering an explainable loss at home to Buffalo Saturday. Part of the reason I have the RedHawks so high in these standings is their finishing schedule, which includes two winnable games against Kent State as well as winnable contests at Akron and home against Bowling Green (Last week: 3 East).
6) Toledo (15-10, 6-7 MAC) – Yes, I know the Rockets are a game behind Western Michigan in the standings. And I will admit that my confidence is starting to waver as this team has lost three straight, including its second consecutive loss at Savage Arena. But if I am right and Toledo belongs in this spot, the Rockets will prove it in their next two games as they host Western Michigan on Saturday and Eastern Michigan next Wednesday (Last week: 5 West).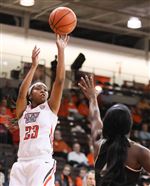 Bowling Green State University guard Caterrion Thompson puts up a shot against Western Michigan in the Falcons' loss to the Broncos at the Stroh Center last Wednesday.
BLADE/JEREMY WADSWORTH Enlarge
7) Western Michigan (14-11, 7-6 MAC) – While the Broncos have won two of their last three, the wins came over Akron and Bowling Green. What's more, WMU lost by 10 points at home to Ball State. If the Broncos want to hold onto the fifth seed they currently possess (thanks to win over Miami), beating Toledo on the road Saturday is a must (Last week: 3 West).
8) Northern Illinois (13-11, 5-8 MAC) – Well, my prediction from two weeks ago that the Huskies would win at least two of their next four games came true: What's more, NIU did me one better by winning its last three contests. Ah, but the good times ... well, I think the Huskies would do well to win two of their last five, a stretch that starts with a home game against Ball State and a road contest at Central Michigan. NIU's Feb. 24 game at EMU will be critical (Last week: 6).
9) Eastern Michigan (5-7, 9-14 MAC) – This is another example of me going "against the standings" as we reach the final stretch. The Eagles are a half-game behind Toledo and a half-game ahead of Northern Illinois, but EMU is tracking in the wrong direction. Yes, injuries and illness (and a tough schedule) have played a part in a five-game losing streak. But the Akron loss was surprising, and the schedule does not get easier (Last week: 4 West).
10) Kent State (11-14, 4-9 MAC) – The Golden Flashes now have lost three in a row, including two home contests. The good news for KSU is that three of its final five games are at home, but the Flashes have two contests against Miami as well as a tough test at Ohio and a home challenge against Buffalo. Climbing out of the "bottom four" will not be easy (Last week: 4 East).
11) Bowling Green (10-14, 2-11 MAC) – The Falcons show glimpses of being a team that can compete for wins in the MAC. But sustaining those "glimpses" over a 40-minute span? That has eluded BG during its current seven-game losing streak. The "bye" week in the schedule comes at a good time, but the final stretch is daunting since it includes two games with Buffalo and tricky road tests at Ohio Saturday and at Miami one week later (Last week: 5 East).
12) Akron (8-16, 2-11 MAC) – Believe it or not, I came close to predicting a win for the Zips last week. But I will be honest: I thought Akron would knock off NIU at home (a game the Zips lost by 23) and then lose at Eastern Michigan (a game the Zips won by 12). So no predictions, except for a teaser: Akron's finishing schedule may provide some wins since UA is home against Buffalo and Ohio and has winnable road games against Kent State and Bowling Green (Last week: 6 East).
MAC postseason award winners
■ Player of the year: This award has a number of worthy challengers, including Courtney Woods of NIU, Lauren Dickerson of Miami, and Jordan Korinek of Kent State. But I think this year the award has to go to the best player on the best team. The best team is easy: Central Michigan. The best player is a lot tougher: I will go with senior Tinara Moore over juniors Presley Hudson and Reyna Frost.
■ Freshman of the year: This one also is tough. The list of candidates includes Courtnie Lewis of EMU, Cierra Hooks of Ohio, Micaela Kelly of CMU, and Oshlynn Brown of Ball State. This race is going to be a photo finish, and I think the charging Hooks will win it by an eyelash.
■ Coach of the year: Full marks to Sue Guevara of Central Michigan, because it's not easy to take the top team and lead it to an undefeated record. Full marks also to Fred Castro of Eastern Michigan for the jump from one win team in his first season to first-round home game contender in his second. I also appreciate the coaching efforts of Felisha Legette-Jack at Buffalo and Bob Boldon at Ohio. But my vote would go to Megan Duffy at Miami for taking the team picked to finish last in the East and turning it into a team making a strong push for a first-round tournament bye.
■ Defensive player of the year: CMU's Tinara Moore won this award last season, and it is hard to argue with a repeat performance. She again leads the MAC in blocked shots with 52, and she is second (to teammate Reyna Frost) in defensive rebounds with 7.0 per contest. I wouldn't stand in the way of giving it to Frost, though, since she leads the league in defensive rebounds and also ranks among the MAC steal leaders with 1.8 per game.
■ Sixth man of the year: I am 100 percent certain this award is going to a freshman this year. After that, though, my crystal ball is a little foggy. The top two candidates in my eyes are Oshlynn Brown of Ball State and Cierra Hooks of Ohio. Brown has started just two of the Cardinals first 24 games but still averages 7.8 points and 8.9 rebounds per game; she has two starts in 13 MAC games and is averaging 10.5 points and 8.2 boards in league play. Hooks has started just two of the Bobcats first 23 games and is averaging 14.3 points, 4.9 rebounds, 1.6 assists and a MAC-best 3.4 steals per game; she has three starts in 12 MAC games and is averaging 16.3 points and 4.8 rebounds. I think Hooks will finish with more games started than Brown, so I'm predicting Brown in another close vote. How about the loser of the freshman award gets this one?
Contact John Wagner at jwagner@theblade.com, 419-724-6481, or on Twitter @jwagnerblade.
Guidelines: Please keep your comments smart and civil. Don't attack other readers personally, and keep your language decent. Comments that violate these standards, or our privacy statement or visitor's agreement, are subject to being removed and commenters are subject to being banned. To post comments, you must be a registered user on toledoblade.com. To find out more, please visit the FAQ.