A wire-to-wire win for the University of Toledo men's basketball team over Ohio on Tuesday night at Savage Arena was marred a bit by an injury to freshman point guard Marreon Jackson.
Toledo scored the first 15 points of the game and never trailed in an 82-74 victory.
Jackson appeared to buckle his leg fighting for a rebound and fell to the ground clutching his knee after attempting to dribble the ball up the court. He was helped off the court and taken back to the locker room.
Toledo coach Tod Kowalczyk said the initial tests for Jackson came back positive and there appeared to be no significant structural damage. He will undergo more tests tomorrow, but Kowalczyk said he doesn't think it is a season-ending injury.
PHOTO GALLERY: Toledo beats Ohio
"The initial diagnosis is that he is okay," Kowalczyk said. "My heart sunk and it took the life out of the building for a while. Marreon has a great personality and Tre'Shaun [Fletcher] is our leader, but Marreon is right there with him. His personality and his smile are contagious. Obviously I will be saying a lot of prayers tonight that everything is fine."
Jaelan Sanford paced Toledo (19-7, 11-2 MAC) with 21 points, Tre'Shaun Fletcher added 17 points, and Nate Navigato scored 15.
Kevin Mickle poured in 24 points to lead Ohio (10-15, 3-10 MAC) and Teyvion Kirk chipped in with 21 points.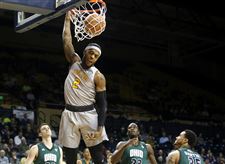 Toledo's Taylor Adway (2) dunks the ball during Tuesday's basketball game between Toledo and Ohio.
Blade/Kurt Steiss Enlarge
Fletcher opened the game with a layup and then hit a 3-pointer. Jackson hit a 3-pointer, Sanford made a layup, Navigato hit an open 3, and Taylor Adway finished the 15-0 game-opening run with two free throws.
"We came out with tremendous energy and really took it to them," Sanford said. "We came out with a 15-0 run and it was a great start for us."
Toledo led by as many as 18 points in the first half after a Navigato 3-pointer gave the Rockets a 37-19 lead with 4:48 left in the half.
From that point on, however, Ohio ended the half on a 10-2 run over the last four minutes and 25 seconds, to cut the Toledo lead to 39-29 at halftime.
Ohio cut the Toledo lead to seven points early in the second half after a Kirk layup made it 43-36 with 17:05 left.
"What's concerning for me is how we started the second half," Kowalczyk said. "That's concerning. We've not come out of the locker room at halftime with the right sense of urgency. We were up 10 at halftime and 10 went to six. We have to find ways to start second-halfs better. That is just the fact of the matter. I don't know what it is, but it needs to change."
Toledo scored the next five points to stretch its lead back to 48-36 with 14:10 left after a James Gordon free throw.
Jackson suffered his injury in the middle of that 5-0 spurt.
"It's tough to see a teammate go down like that," Sanford said. "I think he's going to fine though. He helped us tremendously and we had some guys come in and step up for us."
Ohio kept clawing back and cut the lead to six points on two different occasions, the last coming when Mickle made a jump shot to make it 67-61 Toledo 3:06 left.
Sanford answered with two free throws and Justin Roberts followed that up with two free throws of his own to stretch the lead back to double digits.
Toledo made its free throws down the stretch and finished the game with a season-best 32-of-37 mark from the foul line (86.5 percent).
Kowalczyk said Toledo played far from its best game, but was fortunate to win while not playing at the high level which they have for much of the season.
"It was a really good win when you don't play particularly well," Kowalczyk said. "We had to find ways to get it done. The start of the game was really good with our energy and our defense. We made shots and we moved the ball. Then we went to the bench and had some turnovers. The last 12 to 14 minutes of the first half, I thought they just played harder than us. We had 10 turnovers in the first half. The second half, we only had one turnover, but we stopped moving the ball. Give Ohio credit because they played hard even when they got down early."
Contact Brian Buckey at bbuckey@theblade.com, 419-724-6110, or on Twitter @BrianBuckey.
Guidelines: Please keep your comments smart and civil. Don't attack other readers personally, and keep your language decent. Comments that violate these standards, or our privacy statement or visitor's agreement, are subject to being removed and commenters are subject to being banned. To post comments, you must be a registered user on toledoblade.com. To find out more, please visit the FAQ.