CLEVELAND — It was a shot University of Toledo freshman Marreon Jackson practices day in and day out.
Just 11 miles from Garfield Heights High School, where he undoubtedly hoisted up many similar shots imagining the stakes that were on the line in Friday's Mid-American Conference semifinal against Eastern Michigan, Jackson rose up with a quick release and buried a 3-pointer with nine seconds left that gave Toledo a 64-63 win and a spot in Saturday's MAC title game.
A few feet behind the line? No problem.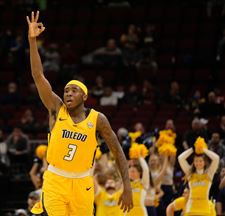 University of Toledo guard Marreon Jackson celebrates hitting a 3-pointer during Friday's MAC Tournament semifinal win over Eastern Michigan.
BLADE/JEREMY WADSWORTH Enlarge
A freshman in the biggest moment of the season? No worries.
"It feels amazing, and it feels even better getting the W and going to the championship," Jackson said. "[Assistant] coach Kyle Barlow and I, we work on that shot day in and day out. I wasn't worried about it."
PHOTO GALLERY: Toledo 64, Eastern Michigan 63
RELATED CONTENT: Need-to-know info for today's MAC Championship game ■ Briggs — Freshman enters Toledo basketball lore after Fletcher's early exit ■ Eastern Michigan's zone defense leaves opponents exasperated ■ UT's Fletcher's status uncertain for championship game
Jackson and former high school teammate Willie Jackson had perhaps the best games of their Toledo careers in their hometown, as Marreon carried Toledo with 26 points and Willie added 18 points and 10 rebounds.
"It means a lot," Willie Jackson said. "We had more of a high standard coming into the tournament, because we were from here. One thing I will say is I love playing for coach [Tod Kowalczyk]. I feel like every game, I'm held to a high standard and I have to perform. That's really what I came here to do. It really wasn't about being back home, it was just wanting to come out and perform."
For Marreon Jackson, the heroics began with a game-tying 3 that tied the score at 61 with 45 seconds left.
VIDEO: Toledo coach Tod Kowalczyk on win in MAC semifinals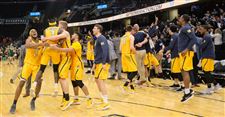 University of Toledo players celebrate after defeating Eastern Michigan 64-63 in a MAC Tournament semifinal at Quicken Loans Arena in Cleveland.
BLADE/JEREMY WADSWORTH Enlarge
Eastern Michigan's Paul Jackson briefly gave the Eagles a 63-61 lead with a layup with 21 seconds remaining.
Toledo ran some clock on its next possession before Jaelan Sanford found Marreon Jackson on the right wing, near the spot where the Rockets benefitted from Miami's Nike Sibande missing a potential game-winning 3 in Thursday's quarterfinal. Jackson calmly hit the shot for his eighth 3 on the night.
"Since the moment I started recruiting him, I knew he was just a big play guy and obviously he was tonight," Kowalczyk said.
The night got off to an ominous start for Toledo, when senior Tre'Shaun Fletcher scored the opening basket of the game and immediately grabbed his left knee in pain.
Fletcher, the MAC player of the year, was helped off the court by teammates and immediately went to the locker room, seemingly dealing a big blow to the Rockets' chances of making the championship game.
Fletcher returned to the bench, but did not return to the game.
In his absence, the Rockets were able to weather the storm and secure a trip to MAC title game against Buffalo, which beat Kent State 78-61 in the other semifinal.
"We lost our playmaker in the middle of the zone in Tre'Shaun," Kowalczyk said. "We hung in there and battled and it was an unbelievable game back and forth. It's a big win for us."
TFW you score the game-winning 3-pointer and the ROCKETS ARE GOING TO THE MAC CHAMPIONSHIP GAME!!!! @macsports video @blastoffmax #GOROCKETS @marreon_jackson SOUND ON! pic.twitter.com/dER5QfBRty

— Toledo Athletics (@ToledoRockets) March 10, 2018
Eastern Michigan got 26 points from Paul Jackson, Elijah Minnie added 13 points, and Kevin McAdoo scored 10.
After Jackson's 3, Eastern Michigan came down the court quickly and McAdoo missed a layup and after a brief battle for the ball, a jump ball was called.
The refs went to the monitor with 0.8 seconds to go. After reviewing the play, they determined the clock should have run off more time and the game was over.
"This one is as big as it gets," Kowalczyk said. "You play like that in front of great crowd — we had an unbelievable fan base that came from Toledo. And to win it in that type of fashion, I would rank it pretty high — maybe at the top."
Against Buffalo, the MAC's regular-season champion, Toledo will try to end a 38-year MAC tournament title drought that dates to the first conference tournament in 1980.
"I feel like we have to be locked in and focused," Willie Jackson said. "Right now they are playing at their best. We are going to watch film. We lost to them in our first [MAC] game and right now our whole team has a chip on their shoulder and we have a job to get done."
Contact Brian Buckey at: bbuckey@theblade.com, 419-724-6110, or on Twitter @BrianBuckey.
Guidelines: Please keep your comments smart and civil. Don't attack other readers personally, and keep your language decent. Comments that violate these standards, or our privacy statement or visitor's agreement, are subject to being removed and commenters are subject to being banned. To post comments, you must be a registered user on toledoblade.com. To find out more, please visit the FAQ.