BOWLING GREEN — On Thursday, Bowling Green State University fired women's basketball coach Jennifer Roos after six seasons in the job — and 17 seasons with the program.
But following an 11-19 season that included a 3-15 mark in Mid-American Conference play, the school dismissed Roos with a year left on her contract.
So who are potential replacements for Roos on the BG bench?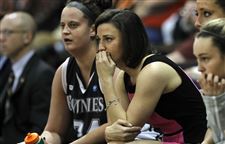 Kate Achter is shown as an assistant coach at St. Bonaventure in a 2014 WNIT contest at Bowling Green, her alma mater. Achter, a Clay grad, is now the head coach at Loyola University in Chicago.
BLADE PHOTO Enlarge
Kate Achter, Loyola (Ill.) head coach: Sentimentally, this would be an obvious choice. Achter is a Clay High School graduate who played at Bowling Green, so there's a clear local connection. She also has coaching experience as an assistant at St. Bonaventure for five seasons and one year at Xavier.
When Achter took the job at Loyola, the Ramblers were a mess. Previous coach Sheryl Swoopes was forced out after three tumultuous seasons, and 10 of the 12 players on the roster had threatened to transfer before Swoopes was sacked.
In her first season, Achter's team finished 2-28 and went just 1-17 in the Missouri Valley Conference. This year the Ramblers lost in the first round of the MVC tournament, finishing 7-23 overall and 5-13 in the league. The team certainly has taken a step forward, but the Missouri Valley is not a very good women's basketball conference, so there is work still to be done to improve that program.
Robyn Fralick, Ashland head coach: Fralick is in her third season as the head coach of the Eagles, who are the defending Division II national championships and are 31-0 heading into a regional contest Friday. Ashland again is ranked No. 1 in the country, getting all 24 first-place votes in the WBCA poll.
Yes, Fralick has not been the head coach at Ashland long. But she was an assistant coach there for the previous seven seasons, and the program has a record of 99-2 with her as the head coach and 113-21 as an assistant (.843 winning percentage).
If fans are worried about an apparent lack of Division I coaching experience, they should not be. Fralick was an assistant coach at Toledo during the 2007-08 season, spent two seasons as the director of basketball operations at Western Michigan, and also was an assistant at Appalachian State for one season.
And this season Ashland took on two Division I opponents: The Eagles held their own in an exhibition against Ohio State before losing 110-80 in Columbus, then suffered a 119-56 loss at Connecticut. Yes, at UConn, the same team that allowed just three American Athletic Conference teams to score more than those 56 points in league play this season, and the same team that beat Wichita State 124-43.
Fralick is a native of Okemos, Mich., whose maiden name is Flewelling. It is interesting to note that she played her college basketball at Davidson University from 2000 to 2004 — where Jennifer Roos was an assistant coach who likely recruited her to the school and was her coach for one season before leaving for an assistant's job at BG before the 2001-02 season.
Michele Durand, Ohio Northern head coach: Here is another coach with local ties, as Durand is a Whitmer High graduate — she is in the school's athletics hall of fame — who played her college ball at Bluffton University before coaching the Beavers for 11 seasons.
Durand just finished her 17th season at Ohio Northern, leading the Polar Bears to a 23-5 record and the Ohio Athletic Conference championship game. A year ago she led ONU to a 30-1 record and the school's fourth NCAA Division III tournament appearance in five seasons.
While Durand has a master's degree from BG, she has never coached at the Division I level. Her 400 career wins makes it clear she can coach; perhaps it would be more accurate to say there is a question about Durand recruiting at the Division I level.
Melanie Moore, Michigan assistant coach: Moore also has ties to northwest Ohio as an Ottawa-Glandorf High graduate whose maiden name was Melanie Halker. She held the O-G school record with 1,204 career points that was snapped by Kadie Hempfling — who has signed a national letter of intent to play for Bowling Green starting next fall.
Moore has spent the past six seasons as an assistant coach at Michigan, helping the Wolverines earn postseason bids in each of the previous five seasons. She also was an assistant coach at Princeton, Dayton, Indiana State, and her alma mater, Siena University.
Yes, Moore has never been a head coach. That did not seem to hinder Megan Duffy, who was on the Michigan staff with Moore last season before taking the head coaching job at Miami. This season Duffy led the RedHawks to a first-round bye in the MAC tournament and a tight loss to top-seeded Central Michigan in the semifinals Friday.
A soon-to-be-fired head coach yet to be named: In the next week Power 5 schools will probably jettison some pretty good coaches who have had success at lower levels before rising — and falling — on the larger stage.
And before fans start grousing about not wanting another program's rejects, consider this: Right now the two top teams in the MAC are Central Michigan and Buffalo, both of whom have a good chance of earning NCAA tournament bids.
Central Michigan's coach is Sue Guevara, who was fired by Michigan a few years before taking over at CMU. Buffalo's coach is Felicia Legette-Jack, who was fired by Indiana (who replaced her with Curt Miller) and immediately hired by Buffalo.
This system does not always work. But it does work with the right coach, so it should not be immediately dismissed.
Contact John Wagner at jwagner@theblade.com, 419-724-6481, or on Twitter @jwagnerblade.
Guidelines: Please keep your comments smart and civil. Don't attack other readers personally, and keep your language decent. Comments that violate these standards, or our privacy statement or visitor's agreement, are subject to being removed and commenters are subject to being banned. To post comments, you must be a registered user on toledoblade.com. To find out more, please visit the FAQ.