CLEVELAND — The University of Toledo men's basketball team will have to wait for another year.
Trying to snap an NCAA tournament drought that spans 38 years, the Rockets fell short in the Mid-American Conference title game, losing 76-66 to Buffalo on Saturday night at Quicken Loans Arena.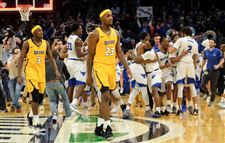 Toledo players Willie Jackson (23) and Marreon Jackson walk off the court after a 76-66 loss to Buffalo in the MAC Tournament championship game at Quicken Loans Arena in Cleveland.
BLADE/JEREMY WADSWORTH Enlarge
In its first MAC title game since 2014, Toledo played without its star Tre'Shaun Fletcher, who injured his knee early in Friday's semifinal against Eastern Michigan.
Marreon Jackson nailed a 3-pointer to tie the game at 63 with 5 minutes, 32 seconds left in the game, but Buffalo closed the game on a 13-3 to earn its third MAC title in the past four years.
"I'm obviously disappointed we didn't win," UT coach Tod Kowalczyk said. "I'm disappointed that we didn't win for our players first and foremost. I really believe that as good as they have been all season, they deserved something special at the ending. But just because you deserve it, doesn't mean you get it or have luck on your side. I thought tonight we couldn't have played any harder and I'm really proud of the way we played."
Jaelan Sanford led Toledo (23-11) with 19 points, Marreon Jackson scored 13 points, and Willie Jackson added 11 points.
RELATED CONTENT: David Briggs — Rockets delivered great ride from start to finish ■ MAC tournament filled with angst and elation ■ Notes/All-Tournament Team
PHOTO GALLERY: Buffalo 76, Toledo 66
VIDEO: Coach Tod Kowalczyk on Toledo's loss in the MAC Tournament championship game
Wes Clark was 10-of-15 from the field and scored 26 points to lead Buffalo (26-8). Nick Perkins added 16 points and Jeremy Harris finished with 10 points.
After Jackson tied the score at 63, Clark hit a jumper, then hit two free throws on the next possession to make the score 67-63 with 3:57 remaining.
On Toledo's next two possessions, Marreon Jackson and Nate Navigato each missed open 3s. Then Perkins hit a 3 for Buffalo to make it 70-63 with 2:50 left. Perkins then scored a layup. After a free throw from Willie Jackson, CJ Massinburg and Harris made two free throws each before Willie Jackson made a layup to get to the final margin.
"We were right there and we just missed a couple shots that we have hit all year," Sanford said. "If we hit those it's a whole different ballgame. The difference was on us. We were right there and we had a couple bad turnovers back-to-back and missed wide open shots. It was just on us."
Kowalczyk said the Buffalo's ball pressure got to Toledo on offense, and the Rockets had an uncharacteristically low seven assists.
"The thing that bothered us was their ball pressure," Kowalczyk said. "For us to only have seven assists, that was key to me. We're a team that doesn't turn it over a lot and in the first half their ball pressure got into us. The seven assists to me was the story of the game."
In the second half, Buffalo raced out to a 42-32 lead with 17:39 remaining after a layup by Clark.
After a basket from Sanford, Perkins was called for a technical foul for slamming the ball after a Buffalo foul. As a result, Sanford and Marreon Jackson each hit two free throws to cut the deficit to 42-38 with 16:36 to go.
After the two teams went back and forth, Toledo cut the lead to two on two different occasions. Each time Toledo would get close, Buffalo had an answer. Kowalczyk pointed to a key stretch when Toledo was down 61-57 and Willie Jackson and Marreon Jackson had turnovers on back-to-back possessions.
VIDEO: MAC Tournament championship game
"We had some stretches where we just couldn't quite get over the hump," Kowalczyk said. "We were right there, in a two-point game, two-point game and then we had two turnovers where Marreon and Willie go behind their back in the lane and then they score in transition. That was the part of the game where they got some separation."
Playing without Fletcher, Toledo was forced to play with a limited bench and Kowalczyk leaned on his starting five as each of the starters — Sanford, Marreon Jackson, Willie Jackson, Navigato, and Luke Knapke — played at least 34 minutes.
As a result, Toledo was outscored 29-6 in bench points.
"You've got to give Toledo a ton of credit, they're playing without Fletcher," Buffalo coach Nate Oats said. "I thought they did a great job without Fletcher, but our guys hung in there. And their lack of depth and just our resilience finally paid off there in the last whatever it was, four, five, six minutes when we kind of cracked that thing open."
Toledo finishes the season 23-11 after winning the MAC West Division. The tournament drought will extend another year, but this was a team that accomplished a lot this season.
"I love this group," Navigato said. "This team was awesome to play with and we have great guys that are so unselfish. I wouldn't trade it for anything in the world. I thought we had a great year. We should keep our heads up high. Obviously it didn't go the way we wanted, but we played super hard and that's all you can ask for."
Contact Brian Buckey at: bbuckey@theblade.com, 419-724-6110, or on Twitter @BrianBuckey.
Guidelines: Please keep your comments smart and civil. Don't attack other readers personally, and keep your language decent. Comments that violate these standards, or our privacy statement or visitor's agreement, are subject to being removed and commenters are subject to being banned. To post comments, you must be a registered user on toledoblade.com. To find out more, please visit the FAQ.