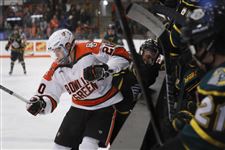 BGSU's Connor Ford, shown in a game earlier this season, scored to only goal of the game in the Falcons' 1-0 win over Northern Michigan in the second game of a WCHA semifinal series.
BLADE Enlarge
MARQUETTE, Mich. — Connor Ford recorded a power-play goal with 17 minutes, 25 seconds remaining in regulation Saturday as the Bowling Green State University hockey team beat the Northern Michigan Wildcats 1-0 to tie their best-of-3 Western Collegiate Hockey Association semifinal series at 1 at the Berry Events Center.
The 17th-ranked Falcons (23-11-6) played solid defense, killed off three power-play opportunities and converted on a man advantage to force a third game, which will take place at 7:07 p.m. Sunday.
The 19th-ranked Wildcats (24-14-3) outshot Bowling Green 23-20, but couldn't find the back of the net against sophomore goaltender Ryan Bednard.
The Falcons held a 16-15 advantage in shots through two periods, and got the offense going in the third.
During a 5-on-4 advantage, Ford notched his eighth goal of the season. John Schilling recorded his sixth assist of the year, and Cameron Wright got his 16th assist.
From there, Bednard and the Falcons defense were rock solid.
Bednard improved to 15-7-4 by turning away all 23 shots he faced in the contest.
Alte Tolvanen recorded 19 saves for Northern Michigan, falling to 22-9-1 on the season.
Guidelines: Please keep your comments smart and civil. Don't attack other readers personally, and keep your language decent. Comments that violate these standards, or our privacy statement or visitor's agreement, are subject to being removed and commenters are subject to being banned. To post comments, you must be a registered user on toledoblade.com. To find out more, please visit the FAQ.