Toledo spring primer: Offensive skill positions
3/13/2018
With spring practice starting on Monday for the University of Toledo football team, it's never too early to start examining what the Rockets have coming back. Here are three quick notes at key positions for Toledo's offense.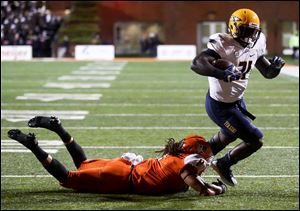 Shakif Seymour leads a deep and talented group of running backs for Toledo in 2018. The Rockets start spring practice on March 19.
1) Who will replace Logan Woodside at quarterback? Hudson graduate Mitch Guadagni is now a junior and served as Woodside's backup last season along with Michael Julian. Guadagni is a big-time talent who has had a couple years to improve behind Woodside. Sophomores Eli Peters and Celeb Martin could also be in the mix for playing time. The Rockets also bring in two highly rated true freshmen in Carter Bradley and Cross Wilkinson.
2) Depth at receiver: Wide receiver is arguably Toledo's best position group, especially with Cody Thompson coming back for another season. Add in Diontae Johnson and Jon'Vea Johnson and you have talented, experienced receivers that will make plays with the ball. In the slot, Danzel McKinley-Lewis and Desmond Phillips are back and senior Andrew Davis is set to return from two ACL injuries. It will also be interesting to see if sophomore Bryce Mitchell can get some reps as well.
3) Skilled running backs return: Terry Swanson has moved on, but the beat goes on for Toledo at running back. Sophomore Shakif Seymour rushed for 702 yards and 12 touchdowns as a redshirt freshman last year. Add in junior Art Thompkins as a chance-of-pace back and you have a dynamic duo. Nicholas Sims, who impressed in practice as a redshirt last season, and Nevone McCrimmon could also be in line for some carries. With Kentucky transfer Bryant Koback sitting out this year, the running backs are a young, deep group with a ton of potential.