NCAA tournament first round
At Wichita
No. 3 Michigan vs. No. 14 Montana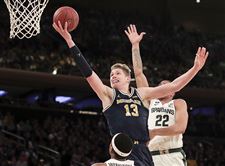 Michigan forward Moritz Wagner gives the Wolverines a height advantage inside at 6-foot-11.
ASSOCIATED PRESS Enlarge
Time: 9:50 p.m.
Records: Michigan is 28-7; Montana is 26-7
TV: TBS
Radio: 100.7 FM
Series: First meeting
Michigan on offense: The Wolverines, who average 74.5 points per game, are not an offensive juggernaut but they're an efficient one — UM is third nationally in assist-to-turnover ratio (1.62). Senior guard Muhammad-Ali Abdur-Rahkman leads the nation in that same statistic (5.04). Montana is limiting teams to 69.8 points per game, which ranks 78th nationally. Michigan shoots 47.1 percent from the field, 36.9 percent from 3-point range, and 65.9 percent from the free-throw line, the latter of which is cause for concern is close games. Junior forward Moritz Wagner's 14.5 points and 7.1 rebounds per game are team highs. The 6-foot-11 Wagner will have a sizeable advantage over Fabijan Krslovic and Jamar Akoh, who are both 6-foot-8. Abdur-Rahkman and sophomore forward Charles Matthews each average 12.6 points per game.
Michigan on defense: The Grizzlies must be precise with their shot selection because Michigan is one of the nation's best defensive teams. The Wolverines hold opponents to 63.5 points per game and are fifth nationally in adjusted defensive efficiency per KenPom.com. Montana's offense is led by junior guard Ahmaad Rorie, a former four-star recruit and Oregon transfer who averages 17.2 points and 3.7 assists per game. Junior guard Michael Oguine averages 15.8 points and 5.5 rebounds, and junior forward Jamar Akoh averages 13.1 points and 6.7 rebounds. Montana shoots 47.1 percent from the field, 34.3 percent from long range, and 70.6 percent from the free-throw line. An area where the Grizzlies could have a significant advantage is rebounding.
Notes: Both teams bring winning streaks into the NCAA tournament — Michigan's won nine consecutive games, Montana six. … Montana is making its 11th tournament appearance. The Grizzlies are 2-11 all time in the dance. Their last tournament victory came in 2006 as a 12 seed when they defeated fifth-seeded Nevada 87-79. … Former Michigan State coach Jud Heathcote led Montana to the Sweet 16 in 1975. In five years at Montana, Heathcote was 80-53. … Michigan and Montana have two common opponents in UC-Riverside and Penn State. Michigan beat UC-Riverside 87-42 in Ann Arbor and won at Penn State 72-63. Montana beat UC-Riverside 77-61 at home and lost at Penn State 70-57.
Guidelines: Please keep your comments smart and civil. Don't attack other readers personally, and keep your language decent. Comments that violate these standards, or our privacy statement or visitor's agreement, are subject to being removed and commenters are subject to being banned. To post comments, you must be a registered user on toledoblade.com. To find out more, please visit the FAQ.