COLUMBUS — To help deal with the demands of a rigorous position, Ohio State has used a three-man rotation at cornerback during the past two seasons.
The plan achieved its desired result, as Ohio State ranked in the top 10 of total defense in both of the past two season.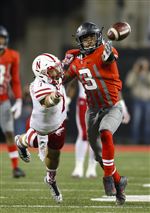 Damon Arnette, right, should again be in the Buckeyes' cornerback rotation this season.
ASSOCIATED PRESS Enlarge
Even though former cornerbacks coach Kerry Coombs departed for an NFL job this offseason, the Buckeyes plan to keep the system in place in 2018.
"I know that's something that has helped us and benefitted us, and especially at that position, that's big because of all the running and things that go into playing that spot," Ohio State cornerbackers coach Taver Johnson told reporters.
The system has been feasible, at least for Ohio State, because of the cornerbacks on the roster. In 2016, OSU rotated with Gareon Conley, Marshon Lattimore, and Denzel Ward. Lattimore and Conley were first-round draft picks, and Ward is projected as a top-ten pick in this year's NFL draft.
Last season, Ward was in a rotation with Damon Arnette and Kendall Sheffield. This season, sophomore Jeffrey Okudah – a former five-star recruit who played some as a freshman – is likely to take the third spot.
OSU asks its cornerbacks to play almost exclusively man coverage, and Johnson said operating a three-man rotation can only happen if the roster is ready for it.
"If we have three guys that can do that, you would like to, for sure," Johnson told reporters. "And I think we do."
Contact Nicholas Piotrowicz at npiotrowicz@theblade.com, 419-724-6110 or on Twitter @NickPiotrowicz
Guidelines: Please keep your comments smart and civil. Don't attack other readers personally, and keep your language decent. Comments that violate these standards, or our privacy statement or visitor's agreement, are subject to being removed and commenters are subject to being banned. To post comments, you must be a registered user on toledoblade.com. To find out more, please visit the FAQ.