COLUMBUS — Tickets for Ohio State's spring game on Saturday are no longer available, the school announced.
Ohio Stadium will not be at full capacity because of renovations to the B and C decks inside the stadium, which Ohio State said will prevent about 18,000 seats from being used for the spring game.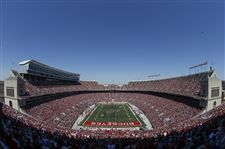 Ohio Stadium will be without about 18,000 seats on Saturday due to construction work on the B and C decks.
ASSOCIATED PRESS Enlarge
The school will distribute approximately 79,000 tickets for the football game and the OSU vs. Michigan lacrosse game that will precede it.
Ohio State said in a release that only those who currently have tickets and children under 6 years old will be admitted.
The B deck is currently under construction, while parts of the C deck are undergoing restoration work for the second spring game in a row. Last season, Ohio State announced an attendance of 80,134.
The Buckeyes have drawn the most fans to their spring game during the past three seasons, crossing the 100,000 barrier in 2016 and drawing 99,391 in 2015.
Gates open at 10 a.m. Saturday, followed by the lacrosse game at 11 a.m. and the football game at 1:45 p.m.
The forecast Saturday has already canceled numerous spring games in the Midwest, with Michigan and Iowa State among them. Columbus is expected to see rain and possible thunderstorms.
Contact Nicholas Piotrowicz at npiotrowicz@theblade.com, 419-724-6110 or on Twitter @NickPiotrowicz
Guidelines: Please keep your comments smart and civil. Don't attack other readers personally, and keep your language decent. Comments that violate these standards, or our privacy statement or visitor's agreement, are subject to being removed and commenters are subject to being banned. To post comments, you must be a registered user on toledoblade.com. To find out more, please visit the FAQ.